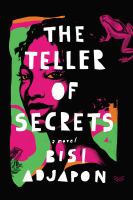 Publishers Weekly
(c) Copyright PWxyz, LLC. All rights reserved

Ghanaian author Adjapon's fierce feminist coming-of-age debut melds the personal and political amid the violent upheaval of 1970s Ghana. At nine, Esi Agyekum knows plenty of secrets, including her Ghanaian father's affair, which resulted in a younger half-sibling. She also has four older half-sisters, whom their father berates for their sexual activity, while assuring smart, perceptive Esi that her future will take a different path. These early sections—as Esi reflects on her old life in Lagos, where her Nigerian mother went missing when she was four, and later explores her sexuality during puberty—convincingly express a childlike sensibility, which is especially poignant over a backdrop of a series of military coups ("CIA. KGB. The alphabet people are like spirits. No one sees them or knows who they are, but they know how to find people who don't like presidents"). As Esi matures, so does her narration, and she outlines not only the secrets she keeps, such as her college boyfriend, but also those that were kept from her, such as her sister Mansa's history of abuse by her husband, which is eventually revealed in a letter to Esi. Her father's hypocrisy becomes increasingly striking to Esi as he abruptly shifts from praising Esi's exceptionalism to encouraging her to marry and settle down: "A woman's glory is her husband" becomes his mantra, which contrasts with Mansa's pleas to Esi for help. Sharp, observant, and often bitingly funny, Adjapon's novel captures a country divided by class, ethnicity, and political loyalty and a character who might have a chance to soar on the winds of social change. This is a winner. (Nov.)
---
Book list
From Booklist, Copyright © American Library Association. Used with permission.

This breathtaking debut novel from Nigerian Ghanaian author Adjapon is a coming-of-age story seen through the eyes of a naive but feisty Nigerian Ghanaian girl named Esi. Set in a politically charged 1960s Ghana and Nigeria, this richly detailed and evocative story juxtaposes the postcolonial turmoil with the strict social and sexual impositions put on Esi and her half-sisters as they navigate a strict patriarchal society. The spare writing reflects Esi's journey from innocence to adult guilt as she becomes complicit in oppressive West African traditions and masculine privilege. She safeguards the secrets of her father and those around her, remaining silent as she witnesses her father's flagrant infidelity, the casual indifference to her sexual victimization, and the hypocrisy of adults who dole out punishment to others for misdeeds they commit themselves. Adjapon's unflinching portrayal of the inferior status of females in Esi's milieu is replete with equal parts cruelty and comeuppance. Despite her father's constant mantra—"A woman's glory is her husband"—Esi ultimately takes control of her body, her mind, and her whole being in ways that will merit a fist pump among feminists everywhere.
---
Kirkus
Copyright © Kirkus Reviews, used with permission.

A Ghanian Nigerian girl questions the patriarchy against the backdrop of political upheaval during the late 1960s and early '70s. After her Nigerian mother disappears when she's 4, Esi Agyekum grows up with her father, stepmother, stepsisters, and brother in Ghana. She can't help but notice the preferential treatment her brother receives, while she has to suppress her burgeoning sexuality. Bearing the weight of her father's expectations, Esi moves through the childhood rites of passage even as she tries to rebel against societal norms. "Women occupy the kitchen while a man rules from the sitting room," she observes. Such a fate, she promises herself, will not befall her. The story is packed tight with a brisk catalog of events. Esi constantly shifts from one to another—she sees her father having sex with a woman who is not his wife, she attends elementary school, she attends high school, she visits Nigeria, she falls in and out of love with men—while Adjapon barely gives any of these events time to percolate and matter. For a novel that is packed with so many happenings, the narrative is surprisingly lightweight. It's a whirlwind tour of a childhood without a compelling (or even believable) voice to guide the reader through the landscape. Esi's self-centeredness as a young adult seems understandable when so much goes on in her life. Against this character trait, though, her feminist awakening seems incongruous. The Esi we come to know seems impulsive, flighty, and incapable of in-depth analysis. Awkward sex scenes only muddy the waters further. Adjapon also weaves in news of state coups without placing them in context. In the end, the book's execution doesn't live up to its grand narrative ambition. A muddled coming-of-age story that pays lip service to the ideals of feminism. Copyright © Kirkus Reviews, used with permission.