The Duncan Public Library will be closed on Good Friday and the following Saturday
THE SYSTEM WILL BE DOWN

This website may not be accessible on the 8th of April!

Our DnD is not only for beginners! If you are an advanced player, join our crew on opposite Saturdays (DnD @ DPL on our calendar) to play! You can come to the library's annex or join using THIS Discord channel above!
Learn how to create characters and build worlds! For ages 9 and older (but parental permission will be required for those under 18) If you are not new to DnD and want to play, this group also meets on alternate Saturdays at 10 am to PLAY! You can also join using the Discord channel below

Tuesdays & Thursdays at 3pm and 4pm, join Mr. Rich in his elaborate worlds on a staff-led, closed network, collaborative Minecraft adventure! There is currently no registration required for Minecraft!
They're heeeere! We have a few of our Binge Boxes ready to check out! Binge Boxes are a set of movies with a similar theme that are all together in one handy box for you to check out. Want to have a horror movie marathon? Watch Westerns all day? Kids love talking animals but you're sick of watching the one movie over and over? A Binge Box might work for you! You don't have to stand at the DVD rack for half an hour trying to find all the different movies you want to watch. We have them in one box for you! Each box contains 4 to 8 movies and we will check out one per family. We will rotate out the collections over time so there will always be a new box available. I hope you all find these to be a fun addition to the collection! There's more to come!
Did you get a new cellphone or E-reader? Did you go from a laptop to an iPad? Do you just want to know more about a device you have had for a while? Would you like to sit with someone who can walk you through how to use your technology? You can now use the form on our website to request a one-on-one tech help session with Rich! (click on the logo above!)

If your resolution for 2022 was to be more creative or to write more, our Adult Writer's Group meets every Tuesday at 3:30pm in the Board Room! Come check out their display near the elevators to find out more and to read some of their past anthologies! This group is for ages 18 and older; we are working on having groups for other age groups!



Did you know the library has three notaries on staff?
Chances are, at least one will be available when you need to have something notarized!
Be sure to wait to sign your documents when the notary is present, and bring your ID!
This is a free service!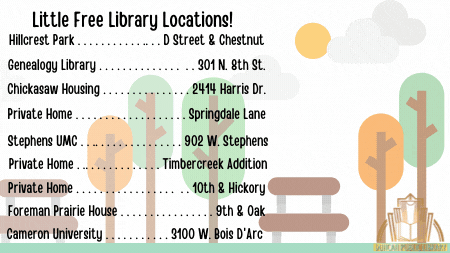 LIttle Free Libraries are all over Duncan! Take a book and leave a book. When you finish a book, leave it in one of these little libraries for someone else to enjoy! If you know of one we don't have listed, let us know!
Please remember that the books in these little libraries are protected only when they are inside and the doors are shut. Sadly, we've discovered a few ruined books that were left out in the wind and the rain.