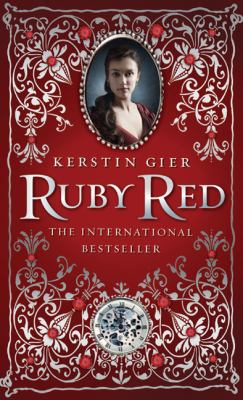 Ruby Red
by Gier, Kerstin


Publishers Weekly Along with everyone else in her extended London household, 16-year-old Gwyneth believed that her cousin Charlotte was destined to be the family's next time-traveler. Unlike Charlotte, Gwyneth has no training in how to behave in other time periods, nor any background in the secret society of Guardians that protects the travelers-all vexingly inconvenient when Gwyneth starts popping back in time. What she does have is a mystery about why her mother lied about her birth date and a rocky partnership with fellow time-traveler Gideon. Gwyneth and Gideon are to fulfill the great quest of the Guardians and unlock a mysterious power, but the journeys prove perilous as they jaunt through 300 years of family secrets. First published in Germany, Gier's trilogy (Sapphire Blue and Emerald Green will follow) has met with success in Europe, though for a book set (at least partly) in the era of Google and cellphones, it has a quaint, old-fashioned feel. While some of the foreshadowing lacks subtlety, Gier's characters and plotting are first-rate, creating an adventure that should leave readers eager for the rest of the trilogy. Ages 12-up. (May) (c) Copyright PWxyz, LLC. All rights reserved.
(c) Copyright PWxyz, LLC. All rights reserved
Book list *Starred Review* It is supposed to be Charlotte. Sixteen-year-old Gwen has always known that her cousin is the one who has the family's time-travel gene, which is about to activate at any moment. Charlotte has been trained since childhood to complete a complicated task that involves fulfilling a prophecy. Gwen tries to tell herself that the tell-tale dizzy spells she has been experiencing don't mean anything, and then she finds herself back in time. Is this time-travel fantasy easy to follow? Not especially. Throw in the secret society of the Guardians and a mysterious chronograph that synchs gems, musical notes, and the blood of the time travelers, and readers' heads may be spinning like Gwen's. What makes this such a standout is the intriguingly drawn cast, stars and supporting players both, beginning with Gwen, whose key feature is her utter normality. Despite being raised by odd characters in a strange old London house, Gwen is a girl who likes texting, watching the telly, and teasing her best friend. Suddenly, she is meeting a mysterious cabal, talking to ghosts, and, while back in the eighteenth century, running an attacker through with a sword. The fact that her assigned partner in these endeavors is swoonworthy Gideon helps only a little. Adventure, humor, and mystery all have satisfying roles here. Originally published in Germany, this is the first of a trilogy. Hint: for a clue to what it all means, reread the first chapter.--Cooper, Ilen. Copyright 2010 Booklist
From Booklist, Copyright © American Library Association. Used with permission.
School Library Journal Gr 6-9-Gwyneth Shepherd, 16, was born into an offbeat English family. Unfortunately, she has no real interest in its unique time-travel gene or the tedious fencing training and language lessons that come with being the chosen one. That's best left to her cousin, Charlotte, so when Gwyneth, rather than Charlotte, starts traveling to the past, she is entirely unprepared. She lacks adequate knowledge of history and etiquette, and her mother warns her not to trust the secret Society of the Guardians, whose job is to protect her. Gwyneth's only help comes from Gideon de Villiers, a handsome time traveler from another family. Together, they must face off against the formidable Count and uncover the mysterious disappearance of a stolen chronograph, a time machine. The teen describes her exploits with humor and naivete. Aside from her special abilities (she can also see ghosts), she is every bit the typical teenager who bickers with her family, snoops with her best friend, and crushes on the snooty Gideon. This first installment of a trilogy will soon find a new crop of fans in the United States. It's a fun, engaging read that will be an easy sell for teens wanting to time travel with a delightful narrator.-Kimberly Garnick Giarratano, Northampton Community College, Hawley, PA (c) Copyright 2011. Library Journals LLC, a wholly owned subsidiary of Media Source, Inc. No redistribution permitted.
(c) Copyright 2010. Library Journals LLC, a wholly owned subsidiary of Media Source, Inc. No redistribution permitted.