by Kevin Noble Maillard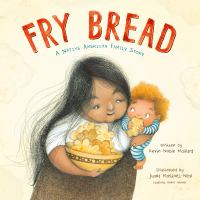 Horn Book
(c) Copyright The Horn Book, Inc., a wholly owned subsidiary of Media Source, Inc. No redistribution permitted.

More than just food, 'Fry bread is time...Fry bread is art...Fry bread is history.' An intergenerational group of Native American friends and family makes fry bread, a common Native food staple as varied as the people who make it; this diversity is reflected in Martinez-Neal's warmhearted illustrations. Back matter explains how fry bread became a part of many Native Americans' diet after being forced from their land and given limited U.S. government rations. Recipe appended. Bib. (c) Copyright 2021. The Horn Book, Inc., a wholly owned subsidiary of Media Source, Inc. No redistribution permitted.
---
Publishers Weekly
(c) Copyright PWxyz, LLC. All rights reserved

Using brief statements that begin "fry bread is," Maillard, who is a member of the Mekusukey band of the Seminole Nation tribe, creates a powerful meditation on the food as "a cycle of heritage and fortune." In each spread, descriptions of fry bread range from the experiential (flavor, sound) to the more conceptual (nation, place). Bolstering the bold statements, spare poems emphasize fry bread in terms of provenance ("Fry bread is history/ The long walk, the stolen land"), culture ("Fry bread is art/ Sculpture, landscape, portrait"), and community ("Fry bread is time/ On weekdays and holidays/ Supper or dinner/ Powwows and festivals"). In blues and browns with bright highlights, Martinez-Neal's wispy art features a diverse group of six children carrying ingredients and learning about each statement. A fry bread recipe concludes the book, and an author's note offers vital, detailed context about this varied dish and its complex history ("The story of fry bread is the story of American Indians"). Ages 3–6. (Oct.)
---
School Library Journal
(c) Copyright Library Journals LLC, a wholly owned subsidiary of Media Source, Inc. No redistribution permitted.

PreS-Gr 2—Millard explores the rich and varied cultures of modern Native Americans through the lens of fry bread. Each section opens with "Fry Bread" in red capital letters, followed by a short lyrical verses tying the food to different aspects of Indigenous life. For example, the verse for "Fry Bread Is Time" reads "On weekdays and holidays/Supper or dinner/Powwows and festivals/Moments together/With family and friends." The verse for "Fry Bread Is History" explains, "The long walk, the stolen land/Strangers in our own world/With unknown food/We made new recipes/From what we had." Double-page color sketches in muted tones show the diversity of tribal members, with thoughtful details. As elders tell about the Trail of Tears, dark birds turn into sad people in the background. The author, a member of the Seminole Nation, shares his family recipe for fry bread and provides an extensive and thoughtful Author's Note, providing more information on each topic covered and occasionally calling out special details in the drawings. These notes deal with and dispel many stereotypes associated with Native peoples, while providing historical and contemporary facts. VERDICT This warm and charming book shows and affirms Native lives. The informational text and expressive drawings give it broad appeal, making it a first purchase for all libraries.—Tamara Saarinen, Pierce County Library, WA
---
Book list
From Booklist, Copyright © American Library Association. Used with permission.

Fry Bread celebrates the thing itself and much, much more. The simplicity of the ingredients, readers learn, belies the quality of the cooking process, the proximity with people, the historical tradition, the geography for fry bread is everything. Maillard and Martinez-Neal bring depth, detail, and whimsy to this Native American food story, with text and illustrations depicting the diversity of indigenous peoples, the role of continuity between generations, and the adaptation over time of people, place, and tradition. Fry bread becomes a metaphor for resilience, born ironically, as Maillard explains, from the most basic of government-issued ingredients. Martinez-Neal's (Alma and How She Got Her Name, 2018) illustrations are meant to be relished, lingered over. Smiling, round-faced children are shown playing together and learning from elders, and details include traditional Seminole textile designs, dollmaking, and pottery styles. A particularly striking spread depicts a wall etched with the names of hundreds of Native American nations, explicitly countering perceptions about the extinction or invisibility of indigenous peoples. A lengthy author's note provides valuable context and history, as well as the author's personal evolution into the fry bread lady with his own modern take on the recipe. This lovely, important book pairs well with Linda Sue Park's Bee-bim Bop! (2005) and Hot, Hot Roti for Dada-ji (2011) by F. Zia for fun culinary, familial themes.--Amina Chaudhri Copyright 2010 Booklist
---
Kirkus
Copyright © Kirkus Reviews, used with permission.

A bright picture book invites kids to cook with a Native American grandma.Kids of all races carry flour, salt, baking powder, and other supplies into the kitchen to make dough for fry bread. Flour dusts the counter as oil sizzles on the stove. Veggies, beans, and honey make up the list of toppings, and when the meal is ready, everyone is invited to join the feast. Community love is depicted in this book as its characters gather on Indigenous land across the continentindoors, outdoors, while making art or gazing at the night sky. This is about more than food, referencing cultural issues such as the history of displacement, starvation, and the struggle to survive, albeit in subtle ways appropriate for young children. With buoyant, heartfelt illustrations that show the diversity in Native America, the book tells the story of a post-colonial food, a shared tradition across the North American continent. Broken down into headings that celebrate what fry bread is, this story reaches readers both young and old thanks to the author's note at the back of the book that dives into the social ways, foodways, and politics of America's 573 recognized tribes. Through this topic that includes the diversity of so many Native peoples in a single story, Maillard (Mekusukey Seminole) promotes unity and familiarity among nations.Fry bread is much more than food, as this book amply demonstrates. (recipe) (Picture book. 3-8) Copyright Kirkus Reviews, used with permission.