by Hakon Ovreas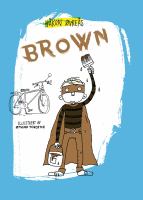 Kirkus
Copyright © Kirkus Reviews, used with permission.

Bullies spur a lad and two new friends to dress up as secret superheroes in this trilogy opener from Norway.Encouraged by the spectral figure of his just-deceased grandpa, Rusty sets out for payback after three punksidentified throughout as "Anton, Ruben, and the minister's son"wreck the clubhouse he and his friend Jack have laboriously constructed from scrap. As "Brown," dressed in a brown cape and mask, he sneaks out into the night to slap brown paint on Ruben's bicycle. Shortly after Rusty tells Jack about the feat, another masked marauder, "Black," repaints Anton's bike. Joined by a third confidante, styling herself "Blue, or the Blue Avenger," the trio sets out on one more nocturnal missiononly to discover that most of the stash of blue paint has disappeared. Still, there's enough to repaint the bikes of all three foes blue. The next day Rusty, overcome by guilt, is on the verge of confessingwhen he learns that his nemeses are now in deep doo-doo for several acts of mischief, notably splashing the local church's spire with blue "rude words." Off the hook! Small, fine-lined ink drawings with color highlights on nearly every page supply this tongue-in-cheek escapade with evocative vignettes depicting Rusty's flights of fancy, quizzical-looking parents and other grown-ups, and masked prowlers in homemade outfits. The cast defaults to white. Chucklebait for Wimpy Kid fans. (Fiction. 9-11) Copyright Kirkus Reviews, used with permission.
---
Publishers Weekly
(c) Copyright PWxyz, LLC. All rights reserved

In this first in a series from Øvreås (The Heartless Troll) and one of Enchanted Lion's early forays into middle grade, Rusty hopes that after his family moves to the country, he'll be able to spend more time with his grandfather. Instead, his grandfather dies suddenly, and a trio of persistent neighborhood bullies adds to Rusty's troubles. Unable to talk about his loss and pushed to the edge after the bullies destroy the fort he's been building with his friend Jack, Rusty steals away in the night, dressed as "Brown," a superhero, and defaces one of the bullies' bikes with brown paint. Feeling empowered, Rusty begins to encounter his grandfather's spirit, who seems to approve of his nightly heroic missions. He's joined by tall tale–telling Jack and lonely Lou (the superheroes Black and Blue, respectively), and together, the three friends find courage and independence when acting as their alter egos. Rusty's slow, rebellious processing of his grandfather's death and his growing sense of self and agency will appeal to Roald Dahl fans. Simple line illustrations with splashes of color and texture from Torseter (My Father's Arms Are a Boat) enhance the quirky, engaging story told in poignant, occasionally humorous prose. Ages 6–10. (June)
---
Horn Book
(c) Copyright The Horn Book, Inc., a wholly owned subsidiary of Media Source, Inc. No redistribution permitted.

Rusty's beloved grandfather has just died and his fort has been ruined by neighborhood bullies, so Rusty's alter-ego, "Brown," arrives to deal with these problems. Rusty/Brown, joined eventually by friends Jack and Lou, works his way through his grief while confronting the bullies. This plentifully illustrated import from Norway is in equal measure heartbreaking, silly, realistic, and childlike. (c) Copyright 2021. The Horn Book, Inc., a wholly owned subsidiary of Media Source, Inc. No redistribution permitted.