by Meghan McCarthy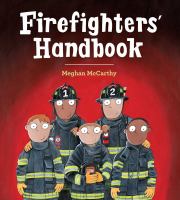 Horn Book
(c) Copyright The Horn Book, Inc., a wholly owned subsidiary of Media Source, Inc. No redistribution permitted.

Friendly, direct-address text covers detailed information about firefighters' equipment, training, daily tasks, and helpful skills to have or cultivate. The writing is clear and specific; the expansive, colorful acrylic illustrations, including labeled diagrams, are themselves quite informative. Firefighters' camaraderie comes through clearly; while the disaster-scenario scenes aren't frantic, neither are they unrealistically downplayed. Back matter includes an interview with a retired fire chief, including questions both from McCarthy and from children. Websites. (c) Copyright 2021. The Horn Book, Inc., a wholly owned subsidiary of Media Source, Inc. No redistribution permitted.
---
Book list
From Booklist, Copyright © American Library Association. Used with permission.

There's no denying that being a firefighter is a tough job. In her latest informational picture book, nonfiction whiz McCarthy shows just what it takes to become and work as this community hero. First, there's a physical ability test with such tasks such as climbing stairs while wearing a 75-pound vest and an interview that looks for team-building traits. Because firefighters also need good memory skills, the author includes a double-page illustration of varied individuals for young readers to test their memory about using questions at the end of the book. While McCarthy's acrylic paintings depict diverse male and female firefighters with her signature cartoon faces, the firefighters' personal gear, equipment, and vehicles are illustrated realistically with precise details. In addition to descriptions of typical training and fire station tasks, children will learn about other requirements, like paramedic skills, and firefighting in nontraditional settings, like at the airport or in the ocean. A concluding section features an interview with a retired fire department battalion chief. An essential title for any elementary unit on community helpers.--Angela Leeper Copyright 2019 Booklist
---
Kirkus
Copyright © Kirkus Reviews, used with permission.

A pictorial guide for fostering future firefighters.With a friendly "welcome!" the book ushers young readers into their training as fledgling firefighters. They are shown what is expected of them physically, from general exercises like running or pullups to more specific tasks such as climbing stairs with a weighted vest or dragging a hose long distances. McCarthy includes diagrams and simple explanations of personal protective equipment like axes, helmets, and self-contained breathing apparatus facepieces and cylinders as well as cutaways of rescue vehicles showing where these materials are stored. Also shown are types of firefighters and descriptions of related professionals like paramedics. McCarthy's trademark bright and lovely painted illustrations are clear and expressive. The text clearly addresses its readers as "you," asking questions along the way, bringing them into the book in a way that works well read aloud or independently. Aftermatter consists of an author interview with a (white, older, male) firefighter and questions for him from children and a smattering of websites to find additional information. Young firefighting aficionados looking to self-identify will find lots to work with here, as persons of multiple races and gender identities are shown.An informative offering that is both appropriately accessible and comprehensive. (Informational picture book. 5-8) Copyright Kirkus Reviews, used with permission.