by James E. Ransome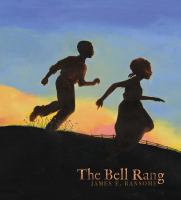 Publishers Weekly
(c) Copyright PWxyz, LLC. All rights reserved

Bold, painterly spreads by Ransome (Before She Was Harriet) give shape to the lives of a slave family whose days are ruled by the overseer's bell. On Monday, "The bell rings,/ and no sun in the sky./ Daddy gathers wood./ Mama cooks." Daddy; Mama; their son, Ben; and the narrator, Ben's little sister, sit close and share a meal. On Wednesday, Ben gives his sister a kiss and a handmade doll, whispering "Good-bye" before walking away with two companions. Thursday, the family realizes that Ben is really gone. "Overseer comes/ to our cabin./ Then dogs come./ Overseer hits Mama,/ then Daddy." The other boys are found, but not Ben: "We pray/ Ben made it./ Free like the birds." In an image of startling force, a flying swallow is seen darting off the last, blank page. Stories about escaping slaves often follow the journeys of those leaving; this one imagines what life was like for a family left behind. The recurring image of the bell throughout each day underscores the way slaves' lives were continually regimented and surveilled. Ransome's gracefully sculpted figures give Ben's family heroic stature; his story makes their hunger for freedom palpable. Ages 4-8. (Jan.) © Copyright PWxyz, LLC. All rights reserved.
---
Kirkus
Copyright © Kirkus Reviews, used with permission.

A girl's family life and plantation routines are interrupted when three enslaved boys run away. Most days start the same way: The bell rings, Daddy collects wood, Mama prepares breakfast, they eat together. The narrator's brother, Ben, her parents, and the other slaves go to the fields while the girl stays with the young ones to play. On Wednesday, Ben surprises her with a handmade doll. On Thursday, Ben and his two friends are gone. There are tears; the narrator's parents are beaten, and other slaves look mad or sad. On Friday, the girl cannot eat or talk. On Saturday, there are horses and dogs; Ben's friends have been caught, but there is no sign of Ben. "Out comes the whip. / All night we cry and pray for Ben." On Sunday, Big Sam preaches near the creek, "of being free. / We sing. / We hope. / We pray / Ben made it. / Free like the birds. / Free like Moses. / No more bells." The final spread shows the girl looking out, with the single word "Monday" and a bird flying away on the endpaper. The richly textured paintings make masterful use of light and space to create the narrator's world and interior life, from the glimmer of dawn as her father chops wood to her mother's fatigue and her own knowing eyes. Ransome's free-verse text is as accomplished as his glowing acrylics.With spare text and gorgeous illustrations, this work represents a unique and engaging perspective on enslaved families. (author's note) (Picture book. 4-8) Copyright Kirkus Reviews, used with permission.
---
Horn Book
(c) Copyright The Horn Book, Inc., a wholly owned subsidiary of Media Source, Inc. No redistribution permitted.

Using deceptively simple, repetitive verse, an enslaved girl narrates her family's daily plantation activities over a week, every morning beginning with the bell ringing--until Thursday when her brother runs away. The author communicates the complex emotions of individuals fleeing enslavement and the aftermath for those left behind. Through lush watercolors that expertly frame and highlight the characters, the reader is drawn into scenes of tenderness, joy, terror, and despair. (c) Copyright 2019. The Horn Book, Inc., a wholly owned subsidiary of Media Source, Inc. No redistribution permitted.
---
Book list
From Booklist, Copyright © American Library Association. Used with permission.

*Starred Review* Every dawn begins the same for the enslaved family of four featured in this book: The bell rings, / and no sun in the sky. / Daddy gathers wood. / Mama cooks. / We eat. The father, mother, and son go to work in the fields, while the daughter spends her days with the younger children. One morning, her brother presents his sister with a handmade doll, a kiss, and a good-bye. The next day, the family discovers that Ben has run away. Tears, fear, and sorrow overtake the family as they wonder about the fate of their beloved son and brother. Beautifully rendered acrylic paintings reveal the closeness of the family, whose pleasure at being together is evident. The richly colored vignettes in Coretta Scott King Award-winning Ransome's single- and double-page-spread paintings clearly picture the emotions felt by the family and the day-to-day monotony of their lives. Swallows are seen flying on the endpapers and over the Sunday prayer gathering, signaling the freedom the family hopes Ben has achieved. The last illustration shows the girl looking at the detested bell, leaving readers to wonder if she is thinking of the day she might choose to run away also. A powerful tale of slavery and its two terrible options: stay or run.--Maryann Owen Copyright 2018 Booklist