by Plozza, Shivaun.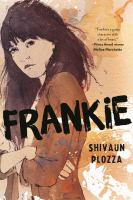 Publishers Weekly
(c) Copyright PWxyz, LLC. All rights reserved

Australian author Plozza mixes mystery with a teenager's messy reckoning with her family history in her debut novel. Now 17 and living with her aunt, Frankie Vega has never gotten over being abandoned by her mother at age four. So when 14-year-old Xavier shows up, claiming to be her half-brother, she isn't sure what to think. Should she trust him, or will he disappoint her like their mother did? Xavier turns out to be involved in some pretty shady things, including helping a (hot) burglar named Nate. Then again, Frankie and her family aren't exactly angels (she's recently been suspended after breaking another student's nose). Though Frankie isn't sure that Xavier can be trusted, when he goes missing, she takes it upon herself to find him. As Frankie plays detective, the clues lead her to Xavier and help her come to terms with her feelings about her mother and her own sense of self-worth. An edgy and drily funny novel that dives deep into how forgiveness-especially forgiving oneself-can help a person grow. Ages 13-up Agent: Cheryl Pientka, Jill Grinberg Literary Management. (Oct.) © Copyright PWxyz, LLC. All rights reserved.
---
Kirkus
Copyright © Kirkus Reviews, used with permission.

The members of the Italian-Australian Vega family aren't known for their contributions to society."Dark-olive" Frankie, with her "aggressive tendencies," has been suspended from school for breaking a classmate's nose with the complete works of Shakespeare; Juliet, Frankie's drug-addicted mother, abandoned Frankie when she was 4; and Frankie's uncle Terry is currently serving a 15-year sentence for multiple armed robberies. When Xavier, Frankie's half brother, pops out of nowhere, Aunt Vinnie, Frankie's guardian and the only Vega on the right side of the law, warns Frankie not to get too close to the boy with whom she shares a mother. At first Frankie doesn't know what to think of the 14-year-old. Is he a junkie? A liar? A thief? How far from the Vega tree has this newly discovered apple fallen? Is he involved in the recent spate of burglaries in the neighborhood? When Xavier goes missing, the only people Frankie can rely on are her best friend, the caustically funny Cara Lam (whose implied Chinese heritage goes unexplored), and Nate, a white, blue-eyed law-breaking indie poseur. Frankie's first-person narration gives readers a well-rounded picture of a formerly bullied teen from the wrong side of the tracks struggling to make sense of her past and how it affects her present relationships. A gritty and darkly witty debut. (Fiction. 14-18) Copyright Kirkus Reviews, used with permission.
---
Book list
From Booklist, Copyright © American Library Association. Used with permission.

One word describes Frankie Vega perfectly: survivor. Ever since her mother abandoned her at age four, she's had to be tough, whether it's getting into fist fights or mouthing off to cops. Only Aunt Vinnie, who runs a questionable kabob stand, and her friend Cara are allowed anywhere near Frankie's heart. That changes when her 14-year-old half brother, Xavier, shows up wanting to establish a relationship. Frankie is excited but cautious. She has no love for their estranged mother and wonders how Xavier fits into their lives. Suddenly Xavier disappears, and Frankie begins a frantic search for the brother she didn't know she loved. Readers will love Frankie for her courage, passion, and honesty as a narrator. Supporting characters are equally as well drawn, from surly yet caring Aunt Vinnie to Nate, a neighborhood ne'er-do-well with deep blue eyes. As Frankie assembles clues to Xavier's fate, the story is unafraid to depict unsavory people, nor does it shy away from bittersweet resolutions. A powerful debut about a girl learning to love despite the dangers.--Suarez, Reinhardt Copyright 2017 Booklist
---
Horn Book
(c) Copyright The Horn Book, Inc., a wholly owned subsidiary of Media Source, Inc. No redistribution permitted.

Seventeen-year-old Frankie Vega has a quick temper and even quicker wit. Repercussions from attacking a classmate and hurtful memories of those who've let her down (like her addict mother) are compounded by the appearance--and subsequent disappearance--of a previously unknown half-brother, fourteen-year-old Xavier. Frankie's authentic voice carries a gritty and layered story. (c) Copyright 2019. The Horn Book, Inc., a wholly owned subsidiary of Media Source, Inc. No redistribution permitted.