by Bardugo, Leigh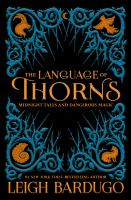 Book list
From Booklist, Copyright © American Library Association. Used with permission.

*Starred Review* With this lushly designed and wonderfully rendered offering, Bardugo (Six of Crows, 2015) returns to her Grishaverse with a collection of six stories. In an ending note, Bardugo mentions that her intention was to craft stories her characters might have heard as children, and indeed, no knowledge of her previous works is necessary for enjoying this. The stories are framed as coming from four of her Grishaverse nations three from Ravka and one each from Kerch, Fjerda, and Novyi Zem and flavors and morals change from culture to fictional culture. At their heart, these are tales built from the eeriest elements of fairy tales we know. Though readers may recognize certain components a girl with a wolfskin cape, a house that smells like gingerbread, a mermaid with a silver voice the stories here are entirely, luminously new. Bardugo doesn't twist familiar tales so much as rip them open, and the magic of the collection is enhanced by Kipin's otherworldly artwork: borders that grow ominously longer and more detailed with each page, and culminate in a final double-page spread for each story. Bardugo may be best known for her exemplary world building, but here more than anything, it is her language, lovely and unsettling, that is on display, as well as the accompanying characters who, like the stories themselves, are never what they seem. HIGH-DEMAND BACKSTORY: Bardugo's already got two acclaimed, best-selling Grishaverse series under her belt, and this release in the same world isn't likely to slow the momentum.--Reagan, Maggie Copyright 2017 Booklist
---
Horn Book
(c) Copyright The Horn Book, Inc., a wholly owned subsidiary of Media Source, Inc. No redistribution permitted.

Six fairy tales set in the Imperial Russiaflavored fantasy world of Bardugo's Grisha Trilogy (Shadow and Bone and sequels) have the feel of centuries-old tales, but the ending of each offers a twist that recasts the story with a more modern sensibility. The stories are decorated in the margins with a cumulative illustration (one visual element added per page) plus a full-spread illustration at each tale's conclusion. (c) Copyright 2018. The Horn Book, Inc., a wholly owned subsidiary of Media Source, Inc. No redistribution permitted.
---
Kirkus
Copyright © Kirkus Reviews, used with permission.

Six reimagined fairy tales set in the Grishaverse. Bardugo returns to the setting of Shadow and Bone (2012) with both original tales and familiar ones retold. Three are set in the Russia-like Ravka, including "The Witch of Duva." This "Hansel and Gretel" variant plays on stereotypes about villainy held by protagonist Nadya. (It also replaces candy with mouthwatering meals: "crispy roast goose," "butter-soaked blini," "black bread spread with soft cheese," "hot tea laced with sugar," "sweet rolls with prune jam.") From the island nation of Kerch, there's "The Soldier Prince," a retelling of The Nutcracker that raises questions about the selfhood of magical creatures. The Fjerdan "When Water Sang Fire" provides a villain origin story for "The Little Mermaid" that owes far more to Disney than to Hans Christian Andersen; it's nevertheless gorgeously otherworldly. Only the Ravkan stories offer substantial local flavor, though Zemeni Ayama is brown-skinned while the Fjerdan mermaids are fair. Kipin's two-color illustrated borders build cumulatively and fascinatingly, culminating in a double-page spread for each story. The more stylized illustrations, such as the thorns and labyrinth building slowly around the "Beauty and the Beast" variant "Ayama and the Thorn Wood," are the most successful; depictions of people are a little cutesy for the eerie prose. Any lover of retellings or original fairy tales will enjoy these offerings, whether they're new to Bardugo's worlds or are established fans. (Fantasy. 12-16) Copyright Kirkus Reviews, used with permission.