by Junauda Petrus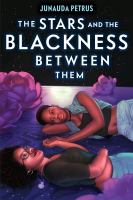 Horn Book
(c) Copyright The Horn Book, Inc., a wholly owned subsidiary of Media Source, Inc. No redistribution permitted.

Audre lives in Trinidad; Mabel in Minneapolis. The two young women meet when Audre, caught by her mother in an embrace with her girlfriend, is sent away to Minneapolis to stay with her father (who is close friends with Mabel's parents). The girls' alternating voices are distinct, even if a plethora of flashbacks and side stories crowd out the main narrative. The prose is sensuous and distinctive; themes of Black power (especially Black lesbian power) are strong; you won't see the ending coming. (c) Copyright 2021. The Horn Book, Inc., a wholly owned subsidiary of Media Source, Inc. No redistribution permitted.
---
Kirkus
Copyright © Kirkus Reviews, used with permission.

In Petrus' bewitching debut, Aquarius meets Scorpio and contemplates what comes next.Audre has found religion in the form of Neri, the pastor's granddaughter, much to the chagrin of her religious mother. Sent from Trinidad to Minneapolis to live with her father, Audre is afraid of leaving her beloved grandmother, being cut off from her home culture, and starting over in a new country. Meanwhile, fascinated with Whitney Houston and the singer's supposed romance with a female friend, Mabel is attempting to fit the pieces of her sexuality together. Although she's been feeling sick, she agrees to entertain her father's friend's newly arrived daughter, and Audre and Mabel grow close over the summer. As the school year ramps up, Mabel can no longer ignore her chronic fatigue and pain and must grapple with life-altering news. She finds comfort in reading an old book of her parents', learning about astrology, and seeking Audre's healing presence. Audre's voice is lyrical, and readers will practically hear her Trinidadian accent as she overcomes her fears and self-doubt. Through a nonlinear storyline and two secondary characters, Afua and Queenie, the author beautifully interjects elements of magical realism while delving into the complexities of spirituality. Readers seeking a deep, uplifting love story will not be disappointed as the novel covers both flourishing feelings and bigger questions around belief and what happens when we face our own mortality. Main characters are black.A cosmically compelling read. (Fiction. 14-adult) Copyright Kirkus Reviews, used with permission.
---
School Library Journal
(c) Copyright Library Journals LLC, a wholly owned subsidiary of Media Source, Inc. No redistribution permitted.

Gr 8 Up—Sixteen-year-olds Audre and Mabel are from different parts of the world, but over the course of a single bittersweet year they meet and fall in love. Audre has been sent from her home in Trinidad to Minneapolis after her very religious mother finds out she has been having a romantic relationship with another young woman. Meanwhile, Mabel, who has had a boyfriend but has never really been in love, finds herself diagnosed with terminal cancer. At a time when both young women are in desperate need of connection, they find it in each other. Both characters have unique and recognizable voices. Audre's "Trini" accent and culture, in particular, come across loud and clear on the page. Intercalary poetry also enhances the story and will appeal to fans of verse novels. The love story is juxtaposed against the tragic story of a fictional wrongfully incarcerated man, whose death row memoir resonates with Mabel's experience of knowing her death is likely near. This becomes a part of Mabel's last wish through an organization like "Make a Wish Foundation." The wrongful incarceration theme makes this title particularly relevant given the current conversations centered around the wrongful convictions of the "Central Park 5." VERDICT Told in alternating viewpoints and deeply romantic, this title will appeal to fans of Nicola Yoon's The Sun Is Also a Star or Becky Albertalli and Adam Silvera's What If It's Us.—Kristin Lee Anderson, Jackson County Library Services, OR
---
Publishers Weekly
(c) Copyright PWxyz, LLC. All rights reserved

After 16-year-old Audre's homophobic mother catches her in the arms of her girlfriend, she is shipped from her home in Trinidad to her father in Minneapolis. There, Audre is reunited with her childhood playmate, Mabel, who is slowly coming to terms with her own sexuality, based on her feelings for her ex-boyfriend, her best friend, and the late, great Whitney Houston. Mabel is quickly smitten with Audre, and the girls begin to grow closer until an unexpected medical diagnosis threatens to halt their budding love story. Faced with her own mortality, Mabel seeks out her life's meaning in the stars and in the words of an infamous death row inmate, while Audre explores her loving conjurer grandmother's spiritual teachings for an impossible cure for Mabel's disease. Enfolding lyrical poetry entries told in the girls' alternating voices that correspond to each "season" of the zodiac, Petrus's earnest debut successfully, touchingly combines elements of fantasy, bittersweet realism, and potent, affecting spirituality to tell the coming-of-age story of two complex, beautifully drawn young black women whose friendship and love draw them together even as Mabel's failing health pushes them apart. Ages 14–up. (Sept.)
---
Book list
From Booklist, Copyright © American Library Association. Used with permission.

Trinidadian native Audre uses the labels placed upon her as a shield, fearing those around her will discover the real reason her mother sent her to live with her distant father in Minneapolis: she was caught wrapped in the arms of another girl. Struggling with her own questions surrounding her sexuality and depleting health, Mabel holds no faith that she's going to have anything in common with Audre, the daughter of a family friend who's just arrived from Trinidad and has a bit of a church-girl reputation. But they find themselves drawn to each other in inexorable ways. Told through unflinching prose and poetry laced with astrological themes, Petrus' work breaks the mold of traditional writing and uses unconventional dialogue and voice to bring life to the story of two authentic, unapologetic Black girls as they face the hardest truths head on and discover everlasting love that reaches even the most distant corners of the cosmos. Through the intersplicing of poetry, Petrus provides compelling depth to both Audre and Mabel while conveying the powerful message that those we love on earth remain with us through a connection that can only be described as celestial. Striking an agile balance between humor and heartbreak, Petrus delivers an immersive queer romance set in in a world much like our own but touched with the slightest tint of magic realism.--Tiana Coven Copyright 2010 Booklist