by Julie Berry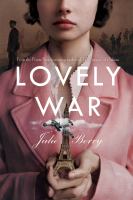 Kirkus
Copyright © Kirkus Reviews, used with permission.

Love's enduring power faces off against the horrors of war in this sumptuous Greek mythology-inspired romantic page-turner.In a Manhattan hotel on the eve of World War II, Hephaestus catches his wife, Aphrodite, in a compromising position with his brother Ares. To exonerate herself of the crime of adultery, she weaves an intricate tale of mortal love during wartime that demonstrates the endurance of the human spirit. Vacillating between the present and the past, the goddess's narrative centers on Aubrey, an African-American musician; Colette, a Belgian singer; Hazel, a wide-eyed British pianist; and her paramour, James, an aspiring architect (the latter three are white), who are all brought together by happenstance during the First World War. The resulting interweaving story is an epic of Shakespearean emotional depth and arresting visual imagery that nonetheless demonstrates the racism and sexism of the period. Scheherazade has nothing on Berry (The Emperor's Ostrich, 2017, etc.), whose acute eye for detail renders the glittering lights of Paris as dreamlike in their beauty as the soul-sucking trenches on the French front are nightmarishly real. The mortal characters are all vibrant, original, and authentic, but none is more captivating than the goddess of love herself, who teaches her husband that love is an art form worthy of respect and admiration.An unforgettable romance so Olympian in scope, human at its core, and lyrical in its prose that it must be divinely inspired. (Fiction. 13-adult) Copyright Kirkus Reviews, used with permission.
---
Horn Book
(c) Copyright The Horn Book, Inc., a wholly owned subsidiary of Media Source, Inc. No redistribution permitted.

After the Greek god Hephaestus catches his wife Aphrodite, goddess of love, in a passionate affair during WWII, Aphrodite defends her actions by relating--with pathos and wit--two intertwined love stories involving four mortals swept up in WWI. Masterful storyteller Berry's tight, short, descriptive chapters span years, continents, and multiple perspectives. This poignant saga will make readers by turns laugh, cry, and swoon. Extensive historical notes on WWI appended. Bib. (c) Copyright 2019. The Horn Book, Inc., a wholly owned subsidiary of Media Source, Inc. No redistribution permitted.
---
Book list
From Booklist, Copyright © American Library Association. Used with permission.

Love and war. They've been inextricably intertwined in literature since Helen of Troy's face launched a thousand ships. And just as the Greek goddess Aphrodite had a hand in that mash-up of desire and havoc, so is she also on the front lines in Julie Berry's sweeping historical novel, which begins in 1942. A stylish couple can barely keep their hands off each other as they take an elevator up to their hotel room where the woman's husband awaits. But this is no ordinary trio. They are revealed to be Aphrodite, Ares, and Aphrodite's long-suffering (very long-suffering) husband, Hephaestus, god of forges and fire, who entraps the adulterers in a gold mesh net. Aphrodite tells Hephaestus he knows nothing of love, but she can show him what it looks like. Taking a page from yet another literary figure, Scheherazade, Aphrodite takes the whole night to spin a story that wraps her relationship with Ares, the god of war, around the story of four lovers who meet during WWI: James Alderidge, on his way to the front; Hazel Windicott, a pianist, who has a few days to fall in love with him; Colette Fournier, a young Belgian woman whose family has all been killed by the Germans; and Aubrey Edwards, a Black soldier, in France to both play jazz with an infantry band and fight for America. In hands less skilled than Berry's, this multifaceted novel might easily have spun out of control. Mixing Greek gods (Hades and Apollo also join their fellow Olympians as the story unspools), the brutally described horrors of war, the tenderness of love, and the evils of racism, in both its blatant and insidious forms, seems more than one book can handle. Yet Berry is her own Scheherazade, mesmerizing us with intertwined tales that describe the depths of suffering and the sweetness of love with remarkable intensity and naturalness. This is one of those books in which readers will feel that they are in it together with all the story's characters. In fact, it is one of Berry's real triumphs that she manages to give nearly equal weight to a large cast of very different characters. James' evolution from a lighthearted young man to a cruelly hardened soldier would seem to have much more depth to it than the story of Hazel, a shy musician. Similarly, Aubrey, spared death when white soldiers mistake his friend for being the Black soldier stepping out with Colette, and who endures both the hell of war and the injustice of having his accomplishments denigrated, is the kind of character who could easily dominate. And, yet, Berry's portrait of the friendship forged between Hazel and Colette, as they spend the war in France as volunteers, waiting to learn the fates of their loves, though a quieter part of the tale, emerges every bit as forcefully and meaningfully as the more dramatic stories.This is not particularly a young adult book. Every emotion, description, and literary sleight-of-hand could just as easily be in an adult novel. And that is one of Berry's greatest strengths. She just writes. All of her young adult novels have been different from one another, from fantasy to religious drama. This one is heavily researched, as Berry explains in her author's notes, which detail how much of the framework is based on facts, whether it be the stories of Black servicemen in WWI or the particulars of the weapons used in the war or the roles of women on the home front. But all that detail folds effortlessly into the story, so uncommon in frame but heartbreakingly familiar in emotion. Lovely War proves again that Berry is one of our most ambitious writers. Happily for us, that ambition so often results in great success.--Ilene Cooper Copyright 2019 Booklist
---
Publishers Weekly
(c) Copyright PWxyz, LLC. All rights reserved

Berry (The Passion of Dolssa) brings to life wartime horrors and passions with commentary from Olympian gods in this love story filled with vivid historical detail. To show her husband, Hephaestus, the real meaning of love and its connection to war and art, Aphrodite (with the help of Apollo, Hades, and Ares) tells the emotionpacked WWI saga of two besotted couples drawn together by music and war: British pianist Hazel and soldier James; AfricanAmerican jazz musician Aubrey and Colette, a Belgian war orphan with a remarkable singing voice. After James reports to duty, Hazel follows, taking a wartime volunteer position in France. There, she meets Colette, who is still reeling from her wartime losses, and introduces her to Aubrey, who quickly steals Colette's heart. James and Aubrey witness horrors on and off the battlefield, and Hazel and Colette cling to each other during the best of times, such as when Hazel has the opportunity for a brief reunion with James, and the worst, as when Aubrey goes missing. Berry's evocative novel starts slow but gains steam as the stories flesh out. Along the way, it suggests that while war and its devastation cycles through history, the forces of art and love remain steady, eternal, and lifesustaining. Ages 12–up. (Mar.) © Copyright PWxyz, LLC. All rights reserved.
---
School Library Journal
(c) Copyright Library Journals LLC, a wholly owned subsidiary of Media Source, Inc. No redistribution permitted.

Gr 7 Up—Greek gods tell a tale of love and war in this enjoyable historical novel. When Hephaestus traps his wife Aphrodite and her lover Ares in a Manhattan hotel during World War II, he seeks to put them on trial for their indiscretions. In her defense, Aphrodite tells the tale of four young lovers set during World War I. In her tale, readers meet young Brits Hazel, a pianist, and James, who recently entered ranks as a soldier. They fall in love and when James is sent to the Western front, Hazel decides to help the war effort by joining the YMCA at a camp in France. It is here she meets Colette, a young Belgian girl, and Aubrey, an African American soldier who is a member of a well-known American military band. Colette, Hazel, and Aubrey strike up a friendship that revolves around music. Hazel and James spend some time together when James is able to take leave. Then James finds himself thrown into the horrors of war while Aubrey goes missing. The four must navigate the chaotic world of war while struggling to reunite and attempt to find love and happiness in the war's destructive wake. Aphrodite spins this tale, with additions from Ares, Apollo, and Hades showing that love and war are drawn together. Jayne Entwistle, Allan Corduner, and other narrators voice the gods and humans. Berry's author's note discusses the historical figures and events that inspired the story. VERDICT This engaging tale is a recommended purchase where historical fiction is popular.—Megan Huenemann, Norris High School, Firth, NE
---
School Library Journal
(c) Copyright Library Journals LLC, a wholly owned subsidiary of Media Source, Inc. No redistribution permitted.

Gr 7 Up-The Greek gods relate the tale of how four young people's fates collide in a love story for the ages. Caught by Hephaestus in an compromising position with Ares, the god of War, Aphrodite is put on trial by her husband in a Manhattan hotel. World War II is waging, but the goddess of Love hearkens back to the first World War to present the romantic epic tale of Brits Hazel (a shy pianist) and James (a reluctant soldier). Hazel follows James to the Western Front, where she meets Colette (a grieving Belgian) and Aubrey (an African American musician from Harlem). Readers will be swept away by Berry's lyrical prose, evenly paced alternating chapters, and unforgettable characters who will jump off the page and resonate with teens. Her acute attention to historical detail is supported by thorough back matter touching upon the racism and sexism of American armed forces at the time. While the conceit of meddling Greek gods sometimes borders on contrivance, the format is ultimately successful. This rumination on the costs of war, the healing power of love and music, and the inevitability of death will stay with readers and tug at their hearts. VERDICT A must where historical fiction and Berry's previous titles are popular.-Shelley M. Diaz, BookOps: The New York Public Library and Brooklyn Public Library © Copyright 2019. Library Journals LLC, a wholly owned subsidiary of Media Source, Inc. No redistribution permitted.