by Mindy McGinnis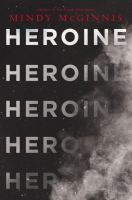 School Library Journal
(c) Copyright Library Journals LLC, a wholly owned subsidiary of Media Source, Inc. No redistribution permitted.

Gr 9 Up-All it takes is one prescription to kick-start a student athlete's frightening descent into opioid addiction. After surgery following a car accident, Ohio softball phenom Mickey Catalan is prescribed OxyContin for pain. When she starts to run out of the Oxy she relies on to get through her physical therapy, she gets pills from a dealer, through whom she meets other young addicts. Mickey rationalizes what she's doing and sees herself as a good girl who's not like others who use drugs (like new friend Josie, who uses because she's "bored"). Mickey loves how the pills make her feel, how they take her out of herself and relieve the pressures in her life. Soon she's stealing, lying, and moving on to heroin. Her divorced parents, including her recovering addict stepmother, suspect something is going on, but Mickey is skilled at hiding her addiction. A trigger warning rightfully cautions graphic depictions of drug use. In brutally raw detail, readers see Mickey and friends snort powders, shoot up, and go through withdrawal. Intense pacing propels the gripping story toward the inevitable conclusion already revealed in the prologue. An author's note and resources for addiction recovery are appended. This powerful, harrowing, and compassionate story humanizes addiction and will challenge readers to rethink what they may believe about addicts. VERDICT From the horrific first line to the hopeful yet devastating conclusion, McGinnis knocks it out of the park. A first purchase for all libraries serving teens.-Amanda MacGregor, Parkview Elementary School, Rosemount, MN © Copyright 2019. Library Journals LLC, a wholly owned subsidiary of Media Source, Inc. No redistribution permitted.
---
Kirkus
Copyright © Kirkus Reviews, used with permission.

A compassionate, compelling, and terrifying story about a high school softball player's addiction to opioids.A promising life can be upended in a minute. One moment star catcher Mickey Catalan, who is assumed white, is living an ordinary life, talking about boys and anticipating a winning season with her best friend, pitcher Carolina Galarza. The next moment her car is upside down in a field, and their promising softball careers are in danger. Mickey's divorced parents and Carolina's tightknit Puerto Rican family are rooting for them to recover before the start of the season. After enduring surgeries, they are each given opioid painkillers, yet only Mickey spirals into addiction. From the novel's opening line, the reader awaits the tragic outcome. What matters are the detailsthe lying, the stealing, the fear about college scholarships, the pain confronted in the weight room, and the desperate desire to winbecause they force the reader to empathize with Mickey's escalating need. Realistic depictions of heroin abuse abound, and the author includes a trigger warning. The writing is visceral, and following Mickey as she rationalizes about her addiction is educative and frightening. Even more frightening are the descriptive passages that reveal how pleasant the drugs make her feel. By the end, readers understand how heroin can infiltrate even the most promising lives.A cautionary tale that exposes the danger of prescription medications by humanizing one victim of America's current epidemic. (author's note, resources) (Fiction. 14-18) Copyright Kirkus Reviews, used with permission.
---
Book list
From Booklist, Copyright © American Library Association. Used with permission.

Senior Mickey Catalan is a talented softball catcher with a bright collegiate future ahead. She's a little socially awkward, but she's beginning to navigate romantic relationships while relying on the easy camaraderie with her teammates and her best friend, star pitcher Carolina. Then Mickey and Carolina are both injured in a car accident, and Mickey's broken hip seriously jeopardizes her athletic future. Determined to play again, Mickey falls into the trap of opiate addiction in a rapid and wholly believable descent. McGinnis begins with a shocking scenario: Mickey wakes to find her fellow-addict friends dead after shooting bad drugs. The rest of the story unfolds in flashback. There's nothing subtle here from the double entendre title that sets the tone on but McGinnis creates fully dimensional characters. Even the drug dealers have complex and interesting back stories. There's also no romanticized happy ending, just the realistic portrayal of how easy it is to develop an opiate addiction and the very real consequences of addiction. A timely and important message for teens everywhere.--Debbie Carton Copyright 2019 Booklist
---
Horn Book
(c) Copyright The Horn Book, Inc., a wholly owned subsidiary of Media Source, Inc. No redistribution permitted.

McGinnis's frank and frightening novel helps redefine the narrative of opioid addiction. Mickey is a star softball player, but when injuries from a car crash threaten to derail her season, she needs help to power through the pain. Her need for opioids escalates until she's using heroin. Frank depictions of drug use and an all-too-plausible trajectory combine for an intense and vital read. (c) Copyright 2021. The Horn Book, Inc., a wholly owned subsidiary of Media Source, Inc. No redistribution permitted.