by Abdi Nazemian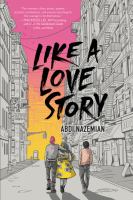 Kirkus
Copyright © Kirkus Reviews, used with permission.

At the height of the 1980s AIDS crisis, three teens grapple with love and friendship.Raised in Tehran, then Toronto, Reza is living in New York City with his mother and new stepfather and stepbrother. Though he is attracted to men, he is paralyzingly afraid of AIDS, equating being gay with death. Judy, who loves fashion, is best friends with Art, the only out student at their school, and both are bullied by fat-shaming, homophobic peers. United in their love for Judy's uncle Stephen, who is gay and has AIDSand whom Art sees as a father figurethey become involved in AIDS advocacy. After meeting Reza, the duo find that they are both attracted to him, their friendship strained when Reza and Judy start datingdespite Art and Reza's undeniable chemistry. In a tribute to gay culture icons, the book depicts the social and political climate of the time in vivid detail, capturing the dichotomy between fear and love and, finally, acceptance. The lack of clinical trials for women and people of color, safe sex, and heteronormativity are highlighted in a nondidactic way along with the legacy of the 1980s gay community, the devastation of HIV/AIDS, present-day joy, and continued violence toward the queer community. Reza and his family are Persian, and Art, Judy, and their families are assumed white. Despite an abrupt ending, a truly lovely romance to cherish.Deeply moving. (author's note) (Historical fiction. 13-18) Copyright Kirkus Reviews, used with permission.
---
Book list
From Booklist, Copyright © American Library Association. Used with permission.

Judy and Art are best friends. That means Judy is always in his corner when their homophobic classmates harass him and Art would never do anything to hurt her. Which is why things get very complicated when he starts to fall for her new boyfriend, Reza. And they get even more complicated when Reza admits he's fallen for Art, too. This is a beautifully written exploration of first love's fragility in the face of a world full of hate and fear. But just as compelling is its look into a friendship that isn't shattered by a betrayal; instead, its cracks are revealed as two friends grow into the people they're meant to be. Nazemian (The Authentics, 2017) paints a picture of late '80s queer life in New York City that's neither romanticized nor viewed as only tragic. Judy's relationship with her uncle, who is living with AIDS, is important but it's his relationship with Art, as a person who can give him the love and acceptance he doesn't find at home, as well as an education in what it means to be part of the LGBTQ community, that is truly powerful. Nazemian's latest will remind readers that first love is isolating and unifying, exhilarating and terrifying, and every paradox in between.--Molly Horan Copyright 2019 Booklist
---
Publishers Weekly
(c) Copyright PWxyz, LLC. All rights reserved

When Reza, a closeted teen, moves from Toronto to New York City ("by way of Tehran") in 1989, the city feels like the epicenter of the AIDS crisis. In a heart-wrenching and bittersweet unfolding of events, he gravitates toward Art, the only openly gay student at his school, and to Art's best friend, Judy, who represents everything he feels that he should desire. Though Reza tries his hardest to keep his attractions secret, dating Judy despite his chemistry with Art, he finds that he can't live a lie, whatever that might cost him. A first-person narrative moves among the three characters as they discover their inner truths at a time that sometimes feels apocalyptic for their community and loved ones. Under the nurturing guidance of Judy's gay activist uncle, the characters subtly investigate different family dynamics. The intense and nuanced emotions evoked by the characters' journeys help to give this powerful novel by Nazemian (The Authentics) a timeless relevance. Ages 13-up. Agent: Curtis Brown, Curtis Brown Ltd. (June) © Copyright PWxyz, LLC. All rights reserved.