by Acevedo, Elizabeth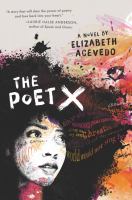 Kirkus
Copyright © Kirkus Reviews, used with permission.

Poetry helps first-generation Dominican-American teen Xiomara Batista come into her own.Fifteen-year old Xiomara ("See-oh-MAH-ruh," as she constantly instructs teachers on the first day of school) is used to standing out: she's tall with "a little too much body for a young girl." Street harassed by both boys and grown men and just plain harassed by girls, she copes with her fists. In this novel in verse, Acevedo examines the toxicity of the "strong black woman" trope, highlighting the ways Xiomara's seeming unbreakability doesn't allow space for her humanity. The only place Xiomara feels like herself and heard is in her poetryand later with her love interest, Aman (a Trinidadian immigrant who, refreshingly, is a couple inches shorter than her). At church and at home, she's stifled by her intensely Catholic mother's rules and fear of sexuality. Her present-but-absent father and even her brother, Twin (yes, her actual twin), are both emotionally unavailable. Though she finds support in a dedicated teacher, in Aman, and in a poetry club and spoken-word competition, it's Xiomara herself who finally gathers the resources she needs to solve her problems. The happy ending is not a neat one, making it both realistic and satisfying. Themes as diverse as growing up first-generation American, Latinx culture, sizeism, music, burgeoning sexuality, and the power of the written and spoken word are all explored with nuance. Poignant and real, beautiful and intense, this story of a girl struggling to define herself is as powerful as Xiomara's name: "one who is ready for war." (Verse fiction. 14-18) Copyright Kirkus Reviews, used with permission.
---
Book list
From Booklist, Copyright © American Library Association. Used with permission.

This coming-of-age story from the streets of Harlem centers on Xiomara Barista, a teenage poet seeking to express herself. X has loved writing down her thoughts from an early age. Unfortunately, she doesn't get to share them with her family, due to her mother's strict dedication to making sure X is focused on being a good Catholic girl. When X starts questioning her faith and realizes her brother is hiding his own secrets from their mother, she starts figuring out how she can stand up for herself and her beliefs. The story, though centered around the family drama, explores other poignant themes facing girls today, diving into human sexuality, the psychological impacts of going through an early puberty, and how girls have to fend off advances from men as well as the slut-shaming stigma that simultaneously can come from women. Ultimately, though, this is a powerful, heartwarming tale of a girl not afraid to reach out and figure out her place in the world.--Bratt, Jessica Anne Copyright 2017 Booklist
---
School Library Journal
(c) Copyright Library Journals LLC, a wholly owned subsidiary of Media Source, Inc. No redistribution permitted.

Gr 7 Up-Magnificently crafted, Acevedo's bildungsroman in verse is a stunning account of a teen girl's path to poetry. Sophomore Xiomara Batista is simultaneously invisible and hyper visible at home, school, and in her largely Dominican community in Harlem-her body is "unhide-able" she tells readers early on, yet she bristles at how others project their desires, insecurities, failures, patriarchal attitudes toward her. Though she is quick to battle and defend herself and her twin brother Xavier, Xiomara's inner life sensitively grapples with these projections and the expectations of her strict, religious mother. Acevedo's depiction of a faith in crisis is exceedingly relatable and teens, especially those going through the sacrament of Confirmation, will deeply appreciate Xiomara's thoughtful questioning of the Church and how it treats women. Forbidden kisses with a crush and an impromptu performance at an open mic prove to be euphoric, affirming moments for Xiomara: "it's beautiful and real and what I wanted." Acevedo's poetry is skillfully and gorgeously crafted, each verse can be savored on its own, but together they create a portrait of a young poet sure to resonate with readers long after the book's end. -VERDICT Truly a "lantern glowing in the dark" for aspiring poets everywhere. All YA collections will want to share and treasure this profoundly moving work.-Della Farrell, School Library Journal © Copyright 2018. Library Journals LLC, a wholly owned subsidiary of Media Source, Inc. No redistribution permitted.
---
Horn Book
(c) Copyright The Horn Book, Inc., a wholly owned subsidiary of Media Source, Inc. No redistribution permitted.

Fifteen-year-old Xiomara, a self-described "brown and big and angry" Dominican girl from Harlem, finds peace in writing poetry. The slow-burning suspense of what will transpire when devout Catholic Mami discovers Xiomara's clandestine relationship with a classmate is eclipsed only by the devastation that occurs when Mami reads Xiomara's candid poetry journal. Acevedo's debut verse novel is an arresting portrait of a young poet coming into her own. (c) Copyright 2018. The Horn Book, Inc., a wholly owned subsidiary of Media Source, Inc. No redistribution permitted.
---
Publishers Weekly
(c) Copyright PWxyz, LLC. All rights reserved

Harlem sophomore Xiomara Batista isn't saintly like her virtuous twin brother. And her tough exterior-she's always ready to fend off unwelcome advances and unkind words-hides questions and insecurities. As her confirmation nears (after two failed attempts), Xiomara begins to voice her uncertainties about the Catholic faith and patriarchal piety pressed on her by her mother and the church. Both intrigued and disgusted by the advances of her peers and older men, she begins a secret relationship with her lab partner Aman, who seems interested in more than her curves ("who knew words,/ when said by the right person,/ by a boy who raises your temperature,/ moves heat like nothing else?"). Xiomara pours her innermost self into poems and dreams of competing in poetry slams, a passion she's certain her conservative Dominican parents will never accept. Debut novelist Acevedo's free verse gives Xiomara's coming-of-age story an undeniable pull, its emotionally charged bluntness reflecting her determination and strength. At its heart, this is a complex and sometimes painful exploration of love in its many forms, with Xiomara's growing love for herself reigning supreme. Ages 13-up. Agent: Ammi-Joan Paquette, Erin Murphy Literary. (Mar.) © Copyright PWxyz, LLC. All rights reserved.
---
School Library Journal
(c) Copyright Library Journals LLC, a wholly owned subsidiary of Media Source, Inc. No redistribution permitted.

Gr 7 Up-That Acevedo narrates her debut novel in verse is a sublime gift. She's undoubtedly the ideal aural arbiter of her spectacular coming-of-age tale about a Harlem teen whose generational, cultural, religious, and emotional conflicts coalesce to teach her "to believe in the power of [her] own words." Not yet 16, Xiomara is unlike her brilliant, never-gets-in-trouble twin brother: "He is an award-winning bound book,/Where I am loose and blank pages." She fills those pages with everything she can't say, revealing doubts, aches, secrets: "It almost feels like/the more I bruise the page/the quicker something inside me heals." She's not devout like her immigrant mother or her best friend, and she's hidden her maturing body for years, until that first kiss: "He is not elegant enough for a sonnet /too well-thought-out for a free write,/taking too much space in my thoughts/to ever be a haiku." Encouraged by her English teacher to claim her voice, Xiomara's performance of her verses will be "the most freeing experience of [her] life." VERDICT Libraries should prepare for eager audiences requesting multiple formats. Patrons who opt for the audio format can access Acevedo's additional explanatory track about a final contrapuntal poem.-Terry Hong, Smithsonian BookDragon, Washington, DC © Copyright 2018. Library Journals LLC, a wholly owned subsidiary of Media Source, Inc. No redistribution permitted.