by Lee, Mackenzi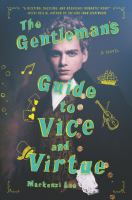 School Library Journal
(c) Copyright Library Journals LLC, a wholly owned subsidiary of Media Source, Inc. No redistribution permitted.

Gr 9 Up-A trio of high-born, determined, and wildly charismatic teenagers get more than they bargained for in this rollicking 18th-century Grand Tour of the Continent gone awry. Endearing rake Lord Henry Montague (or Monty) and his biracial best friend (and unrequited love), the infinitely patient Percy, leave England to drop Monty's fiercely intelligent sister Felicity off at finishing school. The friends then spend a year traveling. After the Grand Tour, Monty will return home to help his demanding father run their estate and Percy will go to Holland to law school. If Monty's dad catches wind of him still "mucking around with boys," Monty will be cut off from the family. The trip is intended to be a cultural experience. However, no one could have predicted that one seemingly petty theft would set off an adventure involving highwaymen, stowaways, pirates, a sinking island, an alchemical heart, tomb-raiding, and a secret illness. From the start, readers will be drawn in by Monty's charm, and Felicity and Percy come alive as the narrative unfolds. The fast-paced plot is complicated, but Lee's masterly writing makes it all seem effortless. The journey forces Monty and friends to confront issues of racism, gender expectations, sexuality, disability, family, and independence, with Monty in particular learning to examine his many privileges. Their exploits bring to light the secret doubts, pains, and ambitions all three are hiding. This is a witty, romantic, and exceedingly smart look at discovering one's place in the world. VERDICT A stunning powerhouse of a story for every collection.-Amanda MacGregor, formerly at Great River Regional Library, Saint Cloud, MN © Copyright 2017. Library Journals LLC, a wholly owned subsidiary of Media Source, Inc. No redistribution permitted.
---
Book list
From Booklist, Copyright © American Library Association. Used with permission.

*Starred Review* Henry Montague is the son of a lord, and as such, his behavior is entirely inappropriate. A lover of vice and hedonism, Monty prefers to spend his time drinking (acceptable) and trysting, both with girls and boys (decidedly not acceptable). Still, Monty is in high spirits as he prepares for his grand tour of the Continent. At his side is his best friend: polite, gentlemanly Percy is the orphaned product of an English lord and a woman from Barbados. Monty, of course, is hopelessly in love with him and plans to make the most of the tour, until his distinct flair for trouble gets in the way. Several miscommunications, one truly terrible party, and an act of petty thievery later, Monty and Percy find themselves on the run across Europe with Monty's sister Felicity in tow. Tongue-in-cheek, wildly entertaining, and anachronistic in only the most delightful ways, this is a gleeful romp through history. Monty is a hero worthy of Oscar Wilde (What's the use of temptations if we don't yield to them?), his sister Felicity is a practical, science-inclined wonder, and his relationship with Percy sings. Modern-minded as this may be, Lee has clearly done invaluable research on society, politics, and the reality of same-sex relationships in the eighteenth century. Add in a handful of pirates and a touch of alchemy for an adventure that's an undeniable joy.--Reagan, Maggie Copyright 2017 Booklist
---
Kirkus
Copyright © Kirkus Reviews, used with permission.

An 18th-century Grand Tour goes exquisitely wrong. Eighteen-year-old white viscount Henry "Monty" Montague is as known for his dashing looks as his penchant for boozeand boys. Before his abusive father grooms him to run the estate, he and his mixed-race best friend, Percy, orphan son of a British colonist and a Barbadian woman, are sent on a yearlong Grand Tourafter which he and Percy will likely be separated forever. Adding insult, their Tour begins under the proviso that, after Monty's sister is delivered to school in Marseille, Monty will remain on the sober straight and narrow or else risk loss of title and fortune. Monty wastes no time in demolishing this agreement in Paris when he gets hammered, offends Percy, insults a duke, ends up naked at Versailles, and steals an objet from the palace in a fit of childish rage. The theft ignites an adventure that illuminates a side of life the trio wouldn't have otherwise seen. Issues of same-sex romance walk in stride with those of race as Monty and Percy find their footing amorously, sexually, and socially. Their realized attraction could mean imprisonment or death, and their relationship is often misconstrued as lord and valet due to Percy's brown skin. The book's exquisite, bygone meter and vernacular sit comfortably on a contemporary shelf. And the friction of racism, tyrannical entitled politicians, and misguided disapproval of homosexuality also have a relevance rooted in current culture's xeno- and homophobia. Austen, Wilde, and Indiana Jones converge in this deliciously anachronistic bonbon. (Historical fiction. 12-18) Copyright Kirkus Reviews, used with permission.
---
Horn Book
(c) Copyright The Horn Book, Inc., a wholly owned subsidiary of Media Source, Inc. No redistribution permitted.

Eighteen-year-old Monty, spoiled heir to a wealthy estate in eighteenth-century Britain, is determined to retrieve an alchemical panacea and cure his lifelong best friend Percy (with whom Monty is hopelessly in love) of his epilepsy. Mayhem, adventure, and a swoon-worthy emotional roller coaster of a romance ensue. A genre tribute, satire, and exemplar in one: trope-filled in the most gleeful way. (c) Copyright 2017. The Horn Book, Inc., a wholly owned subsidiary of Media Source, Inc. No redistribution permitted.
---
Publishers Weekly
(c) Copyright PWxyz, LLC. All rights reserved

Eighteen-year-old Henry "Monty" Montague-scandal prone, acid tongued, and a bit too fond of boys, girls, and gin-is embarking on a grand tour of Europe, a last hurrah before taking up the mantle of lordship. The tour quickly veers off course for Monty, his longtime friend (and not-so-secret crush) Percy, and his headstrong sister Felicity when Monty and a young lady are caught in a compromising situation at Versailles, after which Monty absconds with a small trinket. Pursued by the Duke of Bourbon, Monty learns that the object may hold the key to unlocking powerful alchemical secrets. Without funds or connections, the three haphazardly make their way across the continent, crossing paths with secretive Spanish siblings, an inexperienced pirate crew, and others. It's a gloriously swashbuckling affair, but Lee (This Monstrous Thing) doesn't shy from addressing the era's overt racism, sexism, homophobia, and prejudice regarding illness. Percy, a biracial epileptic, and Felicity, a young woman dreaming of medical school, are well-rounded and fascinating supporting characters, and the romantic relationship that develops between Monty and Percy is sure to leave readers happily starry-eyed. Ages 13-up. Agent: Rebecca Podos, Rees Literary. (June) © Copyright PWxyz, LLC. All rights reserved.