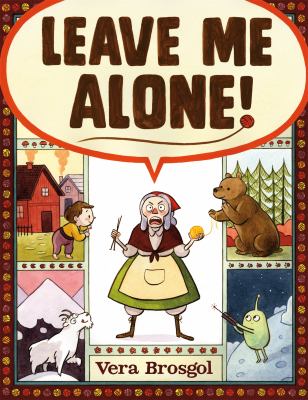 Leave Me Alone!
by Vera Brosgol


Book list It's time for Granny to knit new winter sweaters for her gigantic family, but every time she tries to get started, her grandchildren make a mess of things, unraveling her balls of yarn and getting their wet, grubby mouths all over her projects. There's only one thing to do: leave! So she packs up her supplies and heads out to the woods with a resounding, Leave me alone! Finally at peace in the calm forest, she finds a cozy spot to knit, but soon a bear family comes along and interrupts her yet again. Leave me alone! she shouts, and she departs to find a quieter location, but at every turn, she encounters an obstacle. Brosgol infuses her fairy tale-like story with a hefty dose of humor, thanks to her fantastic page turns and comedic timing, culminating in the surprising, otherworldly solution to Granny's problem. Warm, jewel-toned artwork and cartoonish details add to the warm atmosphere, and the sweet ending, when the woman finally returns home, is as cozy as a new sweater.--Hunter, Sarah Copyright 2016 Booklist
From Booklist, Copyright © American Library Association. Used with permission.
Publishers Weekly Graphic novelist Brosgol's (Anya's Ghost) first picture book opens in a traditional folk tale setting as a Russian grandmother in a tiny cottage struggles to finish her winter knitting. She has dozens of grandchildren, and they swarm all over her yarn: "Her grandchildren were very curious about her knitting.... Could you eat it? Could you make your brother eat it?" Brosgol's cartooning delivers laughs throughout; here, a girl in a kerchief stuffs a ball of yarn into a baby's mouth as three boys chase another ball with sticks. Fed up, the old woman takes off (after cleaning the house thoroughly, of course), bellowing, "Leave me alone!" The cry is repeated in the forest, in the mountains, and even on the moon, where aliens inspect her "with handheld scanners that went 'beep boop.' " She finds peace at last in the black void on the other side of a wormhole, where she finishes her knitting. The fizzy collision of old-fashioned fairy tale elements with space-age physics is delightful, and even the most extroverted readers will recognize that sometimes you just need a little space. Ages 4-7. Agent: Judith Hansen, Hansen Literary. (Sept.) © Copyright PWxyz, LLC. All rights reserved.
(c) Copyright PWxyz, LLC. All rights reserved
School Library Journal PreS-Gr 2-Brosgol incorporates folktale elements in her amusing story of an old woman in search of a quiet place to knit. Fleeing her too small house overrun with too many energetic grandchildren, she packs her needles and yarn and heads for the mountains. Unfortunately, she can't find an undisturbed spot. Hungry bears, curious mountain goats, and little green moon-men provoke her to shout: "Leave me alone!" Climbing through a wormhole, she discovers a dark and quiet place to complete 30 little sweaters. Then she crawls through a wormhole that leads to her house, where 30 grandchildren rush to meet her. Peasant clothing, wooden houses, and village scenes create a setting reminiscent of the Brothers Grimm or of Fiddler on the Roof. The humorous illustrations depict the determined woman knitting in improbable circumstances as she climbs ever higher. A huge bear looms above her, curious "about what she might taste like." Mountain goats frolic with balls of yarn they consider tasty snacks. Green creatures investigate the woman with handheld scanners while she sits on a chair-shaped moon rock. Brosgol is a master of facial expressions, using eyes, mouth, and forehead lines to indicate the old woman's thoughts and emotions. VERDICT This offbeat tale will please readers who appreciate subtle humor, especially those who crave some time alone. A good choice for collections needing to bolster their supply of humorous titles.-Kathy Piehl, Minnesota State University Library, Mankato © Copyright 2016. Library Journals LLC, a wholly owned subsidiary of Media Source, Inc. No redistribution permitted.
(c) Copyright Library Journals LLC, a wholly owned subsidiary of Media Source, Inc. No redistribution permitted.