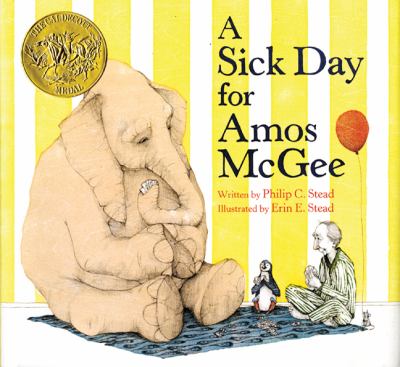 A Sick Day for Amos McGee
by Philip C. Stead


Publishers Weekly With quiet affection, this husband-and-wife team tells the story of a zookeeper whose devotion is repaid when he falls ill. On most days, the angular, elderly Amos rides the bus to the zoo, plays chess with the elephant ("who thought and thought before making a move"), sits quietly with the penguin, and spends time with his other animal friends. But when Amos catches a cold, the animals ride the bus to pay him a visit, each, in a charming turnabout, doing for Amos whatever he usually does for them. The elephant sets up the chessboard; the shy penguin sits on the bed, "keeping Amos's feet warm." Newcomer Erin Stead's elegant woodblock prints, breathtaking in their delicacy, contribute to the story's tranquility and draw subtle elements to viewers' attention: the grain of the woodblocks themselves, Amos's handsome peacock feather coverlet. Every face-Amos's as well as the animals'-brims with personality. Philip Stead's (Creamed Tuna Fish and Peas on Toast) narrative moves with deliberate speed, dreaming up a joyous life for the sort of man likely to be passed on the street without a thought. Ages 2-6. (June) (c) Copyright PWxyz, LLC. All rights reserved
(c) Copyright PWxyz, LLC. All rights reserved
School Library Journal K-Gr 2-Amos McGee, an elderly man who works at the zoo, finds time each day for five special friends. With empathy and understanding he gives the elephant, tortoise, penguin, rhinoceros, and owl the attention they need. One morning, Amos wakes up with a bad cold and stays home in bed. His friends wait patiently and then leave the zoo to visit him. Their trip mirrors his daily bus ride to the zoo and spans three nearly wordless spreads. Amos, sitting up in bed, clasps his hands in delight when his friends arrive. The elephant plays chess with him, and the tortoise plays hide-and-seek. The penguin keeps Amos's feet warm, while the rhinoceros offers a handkerchief when Amos sneezes. They all share a pot of tea. Then the owl, knowing that Amos is afraid of the dark, reads a bedtime story as the other animals listen. They all sleep in Amos's room the rest of the night. The artwork in this quiet tale of good deeds rewarded uses woodblock-printing techniques, soft flat colors, and occasional bits of red. Illustrations are positioned on the white space to move the tale along and underscore the bonds of friendship and loyalty. Whether read individually or shared, this gentle story will resonate with youngsters.-Mary Jean Smith, Southside Elementary School, Lebanon, TN (c) Copyright 2010. Library Journals LLC, a wholly owned subsidiary of Media Source, Inc. No redistribution permitted.
(c) Copyright 2010. Library Journals LLC, a wholly owned subsidiary of Media Source, Inc. No redistribution permitted.
Book list Zookeeper Amos McGee always makes time to visit his good friends at work: he plays chess with the elephant, runs races with the tortoise (who always wins), sits quietly with the penguin, lends a handkerchief to the rhinoceros (who has a runny nose), and reads stories to the owl (who is afraid of the dark). Then, after Amos gets a cold, his friends miss him, and they leave the zoo and ride the bus to his place to care for him and cheer him up. Like the story, the quiet pictures, rendered in pencil and woodblock color prints, are both tender and hilarious. Each scene captures the drama of Amos and the creatures caring for each other, whether the elephant is contemplating his chess moves, his huge behind perched on a stool; or the rhinoceros is lending Amos a handkerchief; or the owl is reading them all a bedtime story. The extension of the familiar pet-bonding theme will have great appeal, especially in the final images of the wild creatures snuggled up with Amos in his cozy home.--Rochman, Hazel Copyright 2010 Booklist
From Booklist, Copyright © American Library Association. Used with permission.