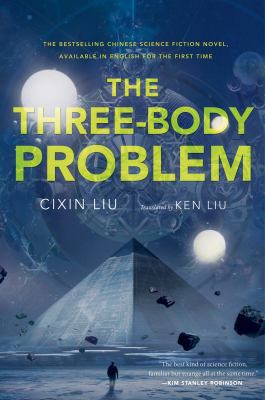 Three-body problem.
by by Cixin Liu and Ken Liu


Book list This novel is a rare treat in several ways. First, it is translated from Chinese, a language from which the West doesn't often get provocative science fiction. Beyond that, this highly deserving blockbuster in China serves as a crash course in both the historically important Cultural Revolution of the mid-twentieth century and the basics of astrophysics. The title itself refers to the complications of calculating gravity's effects on multiple planetary objects, but in this case, the bodies are actually the Communist ideology of controlling humanity's corruption, the individual's will to kill for autonomy, and an approaching alien race seeking to make earth into a new home 40 years after the People's Republic begins broadcasting signals to deep space at the height of the Cultural Revolution. The narrative will grab readers' attention with its passionate and fascinating critique of early Communist China, augmented by translator Liu's lean but informative footnotes for the likely uninformed English readers. But the high-minded premise is really just a vessel for a collection of surreal and hauntingly beautiful scenes that will hook you deep and drag you relentlessly across every page. This is a must-read in any language.--Francis, Chris Copyright 2014 Booklist
From Booklist, Copyright © American Library Association. Used with permission.
Publishers Weekly Fans of hard SF will revel in this intricate and imaginative novel by one of China's most celebrated genre writers. In 1967, physics professor Ye Zhetai is killed after he refuses to denounce the theory of relativity. His daughter, Ye Wenjie, witnesses his gruesome death. Shortly after, she's falsely charged with sedition for promoting the works of environmentalist Rachel Carson, and told she can avoid punishment by working at a defense research facility involved with the search for extraterrestrial intelligence. More than 40 years later, Ye's work becomes linked to a string of physicist suicides and a complex role-playing game involving the classic physics problem of the title. Liu impressively succeeds in integrating complex topics-such as the field of frontier science, which attempts to define the limits of science's ability to know nature-without slowing down the action or sacrificing characterization. His smooth handling of the disparate plot elements cleverly sets up the second volume of the trilogy. (Nov.) © Copyright PWxyz, LLC. All rights reserved.
(c) Copyright PWxyz, LLC. All rights reserved
Library Journal During China's cultural revolution of the 1960s, a woman who is a political undesirable finds purpose at a secret military base that is sending signals into space to communicate with an alien culture. Years later, a video game called Three Body may hold the key to what those aliens want from Earth, and a physicist gets pulled into a worldwide effort to prepare for their arrival. VERDICT This 2006 Chinese best seller finally gets an English translation from Nebula and Hugo Award winner and author Ken Liu. Along with the unusual setting, the novel includes a lot of discussions of high-level physics (sometimes helpfully couched within the video game), as the aliens come from a world with three suns and the unpredictable motions of the trisolaran system threaten their continued existence. It's not an easy sell to Western readers, but the translator provides helpful footnotes explaining the unfamiliar historical and cultural references. Fans of hard sf likened to the work of Arthur C. Clarke will look forward to the rest of the series. [See Eric Norton's sf/fantasy feature, "A Multiplicity of Realms," LJ 8/14.] (c) Copyright 2014. Library Journals LLC, a wholly owned subsidiary of Media Source, Inc. No redistribution permitted.
(c) Copyright Library Journals LLC, a wholly owned subsidiary of Media Source, Inc. No redistribution permitted.