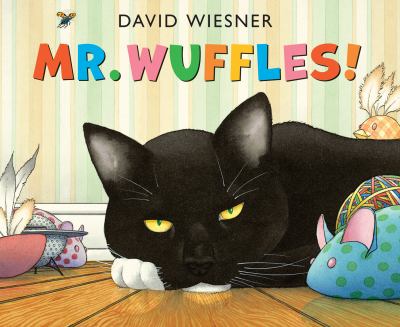 Mr. Wuffles!
by David Wiesner


Publishers Weekly Mr. Wuffles, a handsome black cat with white paws and an arrogant air, couldn't care less about the many toys purchased for his amusement. But he homes in on a metal object (imagine two doll-size colanders soldered shut), imperiling the tiny green aliens inside. Mr. Wuffles bats their spaceship about playfully, damaging it, and in a daring move, the aliens break for safety under the radiator. Wiesner constructs his story in a mix of full spreads and comics-style panels. Though the artwork, done in watercolor and India ink, is superbly colored and composed, the most inventive aspect of the story may be the hieroglyphic language the three-time Caldecott Medalist has invented for his aliens: this is a nearly wordless book full of dialogue no one (excepting maybe Wiesner) will know how to speak aloud. The aliens succeed in befriending the insects that live within the walls of the house, and together they concoct a plan to outwit Mr. Wuffles-yes, humans aren't even a factor in this story of extraterrestrial first contact. Wiesner once again produces a fantasy adventure that isn't like anything else around. Ages 4-8. (Oct.) (c) Copyright PWxyz, LLC. All rights reserved.
(c) Copyright PWxyz, LLC. All rights reserved
School Library Journal K-Gr 4-Mr. Wuffles ignores all his fancy cat toys. Still sporting price tags, they line the hallway as he strolls by. But resting quietly among the feathers, balls, and mice is a tiny metal spaceship, and this catches his attention. His playful batting knocks around the alien explorers inside, causing bumps but no injuries. The ship's flying disks do not survive, however, and the aliens set out to explore the house and repair their craft. Barely escaping Mr. Wuffles's claws, they dash behind the radiator and discover primitive art of the cat's previous battles and make friends with the house's insects. The bugs help the aliens repair the spaceship, avoid capture, and fly away. Nearly wordless, the story is told through pictures and the languages of the ants and aliens, depicted by dashes and symbols. The book is fairly complex, best suited for elementary students, who will enjoy decoding the aliens' cryptographic alphabet. Wiesner humorously captures the curiosity and confusion of Mr. Wuffles and his human, who remains oblivious to the drama underfoot. The idea of a separate, tiny world next to ours makes a great premise, and Wiesner's engaging art and lively pacing carry the day. Visual storytelling at its best.-Suzanne Myers Harold, Multnomah County Library System, Portland, OR (c) Copyright 2013. Library Journals LLC, a wholly owned subsidiary of Media Source, Inc. No redistribution permitted.
(c) Copyright Library Journals LLC, a wholly owned subsidiary of Media Source, Inc. No redistribution permitted.
Book list *Starred Review* Once again Wiesner dips into his irrepressible imagination to deliver a mostly wordless conceptual picture book where the mundane and the magical collide. Mr. Wuffles, an aloof, perspicacious black cat, takes no interest in his playthings, save one peculiar toy that looks something like a hobnail tea strainer. Closer inspection, like only Wiesner can provide, reveals that it is a miniature alien spacecraft experiencing mechanical trouble. Its little green passengers evade Mr. Wuffles and retreat to a hole beneath the radiator, where they discover a series of cave paintings immortalizing battles between the cat and troops of ants and ladybugs. The aliens and the bugs join forces and, speaking in rectangular pictographic word balloons (that some readers will thrill to decipher), hatch a plan to repair the spaceship, foil the feline, and return home. The drama plays out across long, low panels full of kinetic energy and comic detail, all captured in the artist's careful watercolor renderings. In the end, the mission is successful and the aliens escape, but not without leaving behind a few reminders of their visit and an updated record of the epic conflict on the inner wall. Wiesner's many fans will delight at poring over the detailed account of this master plan, again and again, discovering something new with each successive reading. HIGH-DEMAND BACKSTORY: Wiesner is a three-time Caldecott winner. Three. Fans will be ready to pounce.--Barthelmess, Thom Copyright 2010 Booklist
From Booklist, Copyright © American Library Association. Used with permission.