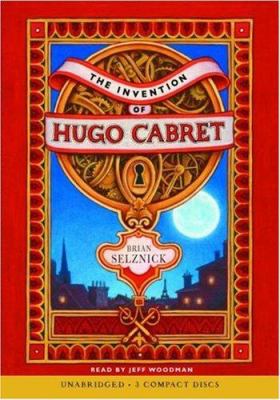 The Invention of Hugo Cabret
by Brian Selznick


Publishers Weekly Selznick's unique, visually arresting illustrated novel is transformed into an equally unique audiobook-plus-DVD presentation here. The story of 12-year-old Hugo Cabret-orphan, clockmaker's apprentice, petty thief and aspiring magician-and how a curious machine connects him with his departed father and pioneering French filmmaker Georges Melies is full-bodied material for Woodman. The narrator dives in, reading with both a bright energy and an air of mystery-befitting the adventurous plot. Listeners will likely cotton to Woodman's affable tone and be fascinated by all the unusual elements here, including the sound-effects sequences (footsteps, train station noises) that stand in for Selznick's black-and-white illustrations, which appear like mini-silent movies in the book. Selznick himself takes over as host on the making-of style DVD, in which he divulges his love of film and his inspiration for the book, discusses (and demonstrates) his drawing technique and even performs a magic trick. The "chapters" of his interview are interspersed with excerpts from the audiobook, as he explains how the recording was a translation of both his words and pictures to sound. This inventive audio-visual hybrid will be a welcome addition to both home and classroom libraries. Ages 9-12. (Mar.) Copyright 2007 Reed Business Information.
Copyright © Reed Business Information, a division of Reed Elsevier Inc. All rights reserved.
School Library Journal Gr 3-6-Brian Selznick's atmospheric story (Scholastic, 2007) is set in Paris in 1931. Hugo Cabret is an orphan; his father, a clockmaker, has recently died in a fire and the boy lives with his alcoholic Uncle Claude, working as his apprentice clock keeper in a bustling train station. When Hugo's uncle fails to return after a three-day absence, the boy decides it's his chance to escape the man's harsh treatment. But Hugo has nowhere to go and, after wandering the city, returns to his uncle's rooms determined to fix a mechanical figure-an automaton-that his father was restoring when he died. Hugo is convinced it will "save his life"-the figure holds a pen, and the boy believes that if he can get it working again, it will deliver a message from his father. This is just the bare outline of this multilayered story, inspired by and with references to early (French) cinema and filmmaker George Melies, magic and magicians, and mechanical objects. Jeff Woodman's reading of the descriptive passages effectively sets the story's suspenseful tone. The book's many pages of pictorial narrative translate in the audio version into sound sequences that successfully employ the techniques of old radio plays (train whistles, footsteps reverberating through station passages, etc.). The accompanying DVD, hosted by Selznick and packed with information and images from the book, will enrich the listening experience.-Daryl Grabarek, School Library Journal Copyright 2007 Reed Business Information.
Copyright © Reed Business Information, a division of Reed Elsevier Inc. All rights reserved.