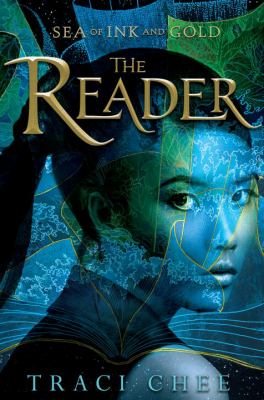 The Reader G.P. Putnams Sons Books for Young Readers
by Chee, Traci


School Library Journal Gr 8 Up-Sefia, who lives in a world without books and reading, is on the run for her life, desperate to avenge the murder of her father and rescue her aunt. The only clue she has is a strange rectangular object-a book-whose secrets she's slowly learning to uncover. With layers upon layers of tales woven throughout the narrative, Chee's debut novel establishes a fantastically populated world with a diverse cast of characters. Meticulous storytelling and a memorable adventure. © Copyright 2016. Library Journals LLC, a wholly owned subsidiary of Media Source, Inc. No redistribution permitted.
(c) Copyright Library Journals LLC, a wholly owned subsidiary of Media Source, Inc. No redistribution permitted.
Book list *Starred Review* Sefia's father drilled her on what to do if they were ever in danger, but she never expected to return home one day and find him brutally murdered. She escapes with one vital thing: a heavy square wrapped in cloth, containing bound pages with intricate symbols. It's a book, but reading in Sefia's kingdom is a skill limited to an elite few, and now that this precious volume is in her possession, she's in grave danger. Sefia spends years on the run with her aunt, Nin, until the day when the murderer catches up to them and violently steals Nin away. With the help of a mute boy she saves from a slave ring and the magic she finds in the words of the book, she seeks out her parents' killer. Chee's debut, the first in a projected series, is a stunning piece of storytelling. She deftly weaves together disparate elements, such as magic, fighting rings, swashbuckling pirates, assassins, and a kingdom beset by war, where books are illegal. Additionally, she seamlessly integrates a book within a book, as Sefia learns to read and discovers the powers of her precious cargo, and astute readers will notice hidden messages in the novel's clever design. With evocative language, fascinating world building, multifaceted characters, and a compelling plot, this is a series fantasy lovers will want to sink their teeth into.--Tomsu, Lindsey Copyright 2016 Booklist
From Booklist, Copyright © American Library Association. Used with permission.
School Library Journal Gr 8 Up-"Two curves for her parents. A curve for Nin. The straight line for herself. The circle for what she had to do." This is the seal branded onto the book that was passed down to Sefia by her parents right before they were murdered by an assassin whose blade reeked of copper. Under the guidance of Aunt Nin, who is a thief, the teen learns to hide and hunt before her mentor is brutally torn away. In solitude, Sefia vows to rescue Nin. She is eventually joined by a strange, mute, and brutalized boy she saves. In a world where books and the very act of reading are limited to a select, powerful few, Sefia begins to understand the weight of her heirloom and what might transpire should it fall into the wrong hands. Sefia digs deep within herself and slowly begins to unlock the power of the written word. This work is deftly rendered in beautiful prose, narrated through three shifting time lines woven into an interconnected history of duty, honor, and magic. Chee provokes some resounding questions: What is there left to be remembered of us after death, and what must we do to be worthy of remembrance? This is a must-have for all those who value a good read with genuine character growth, mystery, unique world-building, adventure, unyielding bonds of loyalty, and pirates. Savvy teens will notice a message scattered through the page numbers. VERDICT A fresh, diverse fantasy; highly recommended for fans of Cornelia Funke's Inkheart and female-powered adventures.-Zeying Wang, School Library Journal © Copyright 2016. Library Journals LLC, a wholly owned subsidiary of Media Source, Inc. No redistribution permitted.
(c) Copyright Library Journals LLC, a wholly owned subsidiary of Media Source, Inc. No redistribution permitted.
Publishers Weekly After 15-year-old orphan Sefia is separated from her aunt, she sets out on a rescue mission. Determined to learn the truth about her past and the rectangular object she's spent her life hiding, Sefia eventually discovers that the item-bound paper covered in symbols-is a book. Books, reading, and writing are unheard of in the land of Kelanna, but Sefia is certain that this book holds the answers she seeks. She is joined in her quest by a mute, nameless boy, whom she rescues from a life of forced cage fighting. The book Sefia carries, which initially seems to be filled with stories and myths, becomes increasingly mysterious when she learns that the people and accounts detailed within are true. Chee's debut is an intricate, multilayered reading experience, but the author avoids leading readers along too transparently, trusting them to puzzle together the pieces surrounding the mystery of Sefia's past. An exploration of self-determination and the magic of the written word, Sefia's story is an absorbing introduction to the Sea of Ink and Gold series. Ages 12-up. Agent: Barbara Poelle, Irene Goodman Agency. (Sept.) © Copyright PWxyz, LLC. All rights reserved.
(c) Copyright PWxyz, LLC. All rights reserved