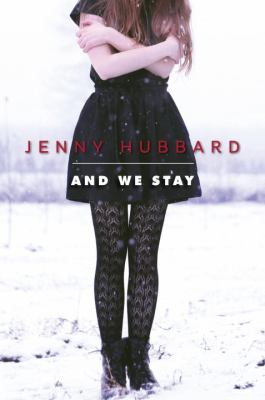 And we stay
by Jenny Hubbard


School Library Journal Gr 9 Up-Emily Beam is a new student at Amherst School for Girls. There are rumors, of course, about why she has entered the school in January of her junior year, but none of them come close to reality. The truth remains only for Emily to replay over and over, each time revealing a bit more about the circumstances leading up to the day when her boyfriend entered the school library where she was working with her class, lured her into the stacks to talk, and then shot himself in the head. (By the way, If you're wondering why no one simply Googled Emily's mysterious past, her story is set in 1995, perhaps for that very reason.) As the teen acclimates to boarding-school life, she keeps her story close to her chest, but reveals herself little by little through the poems she writes and ultimately shares. Emily feels an affinity for her namesake, Emily Dickinson, who lived and wrote just down the street from ASG, and draws on her spirit to pour her emotions onto paper. And We Stay is a little gem of a book. Readers learn as much about Dickinson's beliefs and poetry as they do about friendship, first love, teen suicide, and even abortion-not an easy balancing act. Yet despite the heavy topics, the book feels sweet and poetic and never gratuitous. Budding poets may particularly appreciate Emily's story, but there is certainly something for anyone looking for a good read with a strong, believable female lead who is working her hardest to overcome tragedy.-Jill Heritage Maza, Montclair Kimberley Academy, Montclair, NJ (c) Copyright 2014. Library Journals LLC, a wholly owned subsidiary of Media Source, Inc. No redistribution permitted.
(c) Copyright Library Journals LLC, a wholly owned subsidiary of Media Source, Inc. No redistribution permitted.
Publishers Weekly Seventeen-year-old Emily Beam transfers to the Amherst School for Girls in the middle of her junior year carrying two secrets: her boyfriend Paul committed suicide after she broke up with him, and their breakup was motivated by her pregnancy and her parents' pressure on her to have an abortion. Grieving and guilty, Emily discovers writing poetry to express her feelings, and Hubbard forms the novel with the same blend of prose and verse she used in her critically acclaimed debut, Paper Covers Rock. Less successfully, Hubbard forces a connection between Emily and Amherst's most famous poet, Emily Dickinson, that never quite lives up to the younger Emily's claim that "[her] brain has been hijacked," despite her composing some charming Dickinson-style poetry. Hubbard's writing is elegant and emotional in both styles, and the revelation of Emily's history carries the first half of the book, though the plot falters when there is little of the past left to discover. Mature readers who enjoy a bit of melancholy and might spark to Dickinson will be in good company on Emily's journey. Ages 14-up. Agent: Jonathan Lyons, Lyons Literary. (Jan.) (c) Copyright PWxyz, LLC. All rights reserved.
(c) Copyright PWxyz, LLC. All rights reserved
Book list *Starred Review* Like Paper Covers Rock (2011), Hubbard's sophomore novel has a boarding-school setting and a main character who writes poetry and draws inspiration from a famous writer. And also like Paper Covers Rock, this novel is accomplished, polished, and mixes prose and poetry to stunning effect. After Emily Beam discovers that she is pregnant and breaks up with her boyfriend, he walks into the school library, threatens Emily, and then shoots himself. After an abortion, Emily is sent away to the Amherst School for Girls, in Amherst, Massachusetts, which is located in the hometown of Emily's idol, Emily Dickinson. The spirit of Dickinson is everywhere even her voice echoes in Emily's head and as Emily immerses herself in Dickinson's 1,775 poems, she writes her anguish into poems of her own, which flood her brain constantly. Emily's path to healing involves moving back and forth in time, to memories of Paul, and sharing her poems with empathetic roommate, K. T. The third-person, present-tense voice is compelling. Sounding almost like stage directions ( Emily Beam is sighing all the time ), Hubbard's narrative tone will only make readers want to lean in closer. The poems themselves are insightful and poignant, illuminating the dark corners of Emily's psyche. And though Emily may be damaged and the winter of 1994 is long, happier times and spring seem on the horizon.--Kelley, Ann Copyright 2010 Booklist
From Booklist, Copyright © American Library Association. Used with permission.