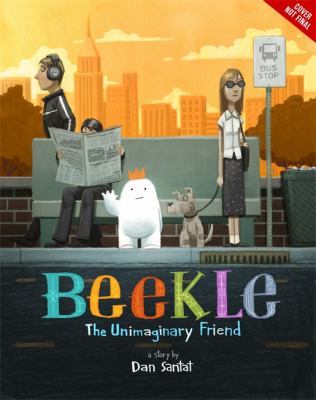 The adventures of Beekle : the unimaginary friend
by Dan Santat


Publishers Weekly On an island of imaginary friends waiting "to be picked by a child and given a special name," one friend-he's adorably pudgy, and wears a paper crown-resolves to wait no longer. He sets sail in a small boat, but the sea serpents and whales he encounters are not nearly as daunting as the real world, which is gray and pedestrian: "No kids were eating cake. No one stopped to hear the music." At last, his human appears: she's a geeky, mop-headed girl who likes to draw. A sweet sequence shows the two shifting and blushing next to each other; she turns to him with his new name: "Beekle." He's overjoyed. Santat (Crankenstein), a versatile and talented illustrator, ranges wide, drawing underwater ocean scenes, grim cityscapes, and appealing alien creatures. The third-person retelling weighs the story down somewhat-there's no conversation-and the pace drags as Beekle's search has more obstacles than it needs to. Affirming thoughts abound ("thinking about his friend gave him the courage to journey on"), but fans may miss the cracked humor of Santat's more irreverent work. Ages 3-6. Agent: Jodi Reamer, Writers House. (Apr.) (c) Copyright PWxyz, LLC. All rights reserved.
(c) Copyright PWxyz, LLC. All rights reserved
Book list In this picture book, imaginary friends are born on a distant island, where they await their real-life kid friends to dream them up and name them. One surprisingly expressive pudgy white blob gets sick of waiting, so he hops in a boat and embarks on an adventurous voyage to the real world, departing on a sunny sea next to a rainbow-scaled dragon and arriving in a gray, dingy city harbor. Once he reaches his destination, a fortuitous breeze brings him to bespectacled Alice, who names him Beekle, and it's the beginning of a beautiful friendship. It's unclear why Beekle is so unimaginary, since the only thing that sets him apart is his initiative, but that's an easily forgivable quibble. Santat's plush illustrations fill each two-page spread with beautiful, varied layouts and a kaleidoscope of tones. Whether he's lost amid a sea of black pants-legs, lonely on top of a bare tree, or joyful at discovering the loopy, colorful world of vivacious children with vivid imaginations, Beekle's journey is lovely.--Hunter, Sarah Copyright 2014 Booklist
From Booklist, Copyright © American Library Association. Used with permission.
School Library Journal PreS-Gr 2-How long would you wait and how far a journey would you make to find your truest friend? Born on an island for imaginary friends, Beekle waits to be "imagined by a real child." He waits and he waits, but his turn never comes. Filled with impetuous courage, Beekle does the unimaginable and heads out across deep waters until he reaches the real world. He finds that life there is so harried that no one notices him. Eventually, as he waits at the top of a star-leafed tree, a small girl with a friendly face calls out to him with a picture in her hand. They learn to be friends, share adventures and snacks, joke, "and together they did the unimaginable." Santat's attention to detail in the mixed-media illustrations shares a child's eye for laughter and movement on full-bleed spreads with strategically placed text. Gazes of wonderment, broad smiles, and changes in perspective ensure an easy transition from page to page. Beekle's round white visage and taped orange paper crown are immediately identifiable in each scene, a sharp contrast to his surroundings against variations of dark neutrals on a city street or the brightly colored dragons of a child's imagination. Like Beekle's new friend, there's something here that feels just right as an "unimaginary" friendship creates a joyous, recognizable bond. A terrific addition to any library.-Mary Elam, Learning Media Services, Plano ISD, TX (c) Copyright 2014. Library Journals LLC, a wholly owned subsidiary of Media Source, Inc. No redistribution permitted.
(c) Copyright Library Journals LLC, a wholly owned subsidiary of Media Source, Inc. No redistribution permitted.