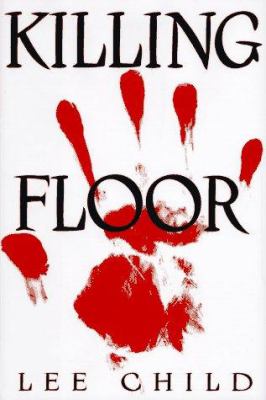 The Killing Floor
by Lee Child


Library Journal The transient Jack Reacher finds himself in tiny Margrave, Georgia, and is almost immediately arrested, if briefly, as a murder suspect. Imagine his surprise when he discovers that one of the victims is his brother, a brilliant U.S. Treasury agent. Reacher himself is no slouch; a former military policeman, he can dispatch villains with an astonishing array of weapons, including various parts of his body. In the company of a straight-arrow detective and a beautiful lady cop, Reacher soon unearths a conspiracy stretching through the little town and beyond. Blood flows freely, terrible threats are made and carried out, and body parts accumulate. First novelist Child, a former television writer, stretches coincidence outrageously in this would-be noir outing, whose hero is creepily amoral, violent, and generally unpleasant. Only large pop fiction collections need consider.?Elsa Pendleton, Boeing Information Svcs., Ridgecrest, Cal.
Copyright © Reed Business Information, a division of Reed Elsevier Inc. All rights reserved.
Publishers Weekly Although the tale is built around a coincidence as big as the author's talent, beautifully detailed action scenes and fascinating arcana about currency and counterfeiting enliven this taut and tough-minded first novel by British TV writer Child. Out of sheer restlessness and rootlessness, 36-year-old ex-military policeman Jack Reacher persuades a Greyhound bus driver to make an unscheduled stop in Margrave, the small Georgia town where Reacher's brother, a U.S. Treasury official, just happens to have been murdered a few hours earlier. Reacher doesn't know about his brother's death or suspect his presence in the town. Indeed, when he's arrested in a local diner for being a conspicuously mysterious stranger, Reacher tells the detective who interviews him that he dropped off the bus to investigate the death of Blind Blake, a guitar player murdered in Margrave 60 years ago. Downsized out of the military, Reacher has cutting-edge investigative and killing skills that come in handy the moment he learns of his brother's murder. This combination of events is so unbelievably convenient that it almost overwhelms the book's solid writing. The reader expects the other shoe to drop-for Reacher to be revealed as an undercover agent, or some such; but it never does. Otherwise, Child writes with a hand as strong and steady as steel. Margrave is a wonderful creation, a seemingly picture- perfect community under the care of a mysterious foundation where the streets are always swept and the people who run the tiny local businesses get grants of $1000 a week to stay open. Two scenes of brutal violence in a nearby prison are rendered with exquisite precision, as is a stalking murder inside the baggage area of the Atlanta airport, and the vast counterfeiting conspiracy that Reacher's brother was probing is wholly credible. (Mar.)
Copyright © Reed Business Information, a division of Reed Elsevier Inc. All rights reserved.
Book list Jack Reacher never had this much trouble when he was a major in the military police. Now the doorman at a Chicago blues club, he witnesses the kidnapping of FBI field agent Holly Johnson. The three paramilitary types who snatch Johnson outside a dry cleaner mistakenly assume the strolling Reacher is with her and snatch him, too. Reacher and Johnson, whose father is one of the top-ranking military men in the country, quickly form an alliance in order to survive and also to determine their captors' motives. And there's the problem with this otherwise satisfying novel. Right-wing militias are the villains du jour of late, but it's almost impossible to take their portrayals beyond cliche. That's the situation here. Reacher is a wonderfully taciturn, insightful protagonist, and Holly Johnson is every bit his equal, but their antagonists are essentially faceless. It's hard to hate the villain you don't know. Reacher remains a promising hero; next time, he deserves a more worthy opponent. --Wes Lukowsky
From Booklist, Copyright © American Library Association. Used with permission.
Book list Former military policeman Jack Reacher is drifting through Margrave, Georgia, looking for the grave site of an old blues pioneer when he's arrested for the execution-style murders of two men. He's cleared and ready to leave town when he learns that one of the dead men is his brother, Joe, an undercover agent for the Treasury Department. Now it's personal. Reacher follows the trail to the world of international counterfeiting, but he still needs to figure out how the jerk-water town of Margrave fits into the picture. This accomplished, mature first novel brings to mind the classic motion picture Bad Day at Black Rock, in which everyone in town is in on the dark secret except the good man in the middle. Book-club sales and a healthy publicity campaign should generate greater than normal demand for unknown writer Child. If he keeps writing this well, however, he won't be unknown for long. --Wes Lukowsky
From Booklist, Copyright © American Library Association. Used with permission.