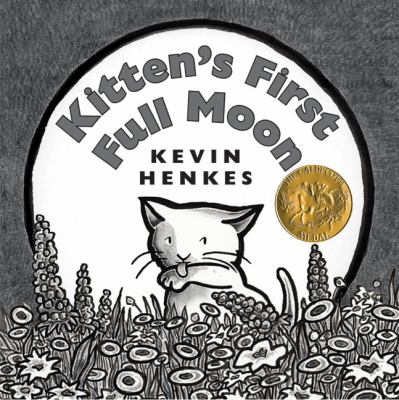 Kittens First Full Moon
by Kevin Henkes


Book list PreS. Henkes creates another winner in this simple, charming story about a naive little kitten who mistakes a round, shining moon for a bowl of milk.itten laps at the sky's creamy circle, but she is surprised when she tastes bugs instead of milk. Then she chases the milk-bowl moon through the garden and field to the pond, where she climbs a tree, discovers another milk bowl shining in the water, and dives in after it. Finally, wet and sad and tired and hungry, she returns home to find, at last, a true bowl of milk, out of the sky and on the porch, waiting for her. Henkes' text, reminiscent of Margaret Wise Brown's work in the elemental words, rhythms, and appealing sounds, tells a warm, humorous story that's beautifully extended in his shimmering, gray-toned artwork. Working in bold black lines and the silvery palette of moonlight, he creates a lovable, expressive character in the determined kitten, and his dramatic contrasts of light and dark capture the excitement of a nighttime adventure. Wise preschoolers may chuckle at the kitten's folly, but they'll also recognize the mysterious power of moonlight to transform the familiar world of daytime into something altogether new. --Gillian Engberg Copyright 2004 Booklist
From Booklist, Copyright © American Library Association. Used with permission.
School Library Journal PreS-K-An irresistible offering from the multifaceted Henkes. The spare and suspense-filled story concerns a kitten that mistakes the moon for a bowl of milk. When she opens her mouth to lick the treat, she ends up with a bug on her tongue. Next, she launches herself into the air, paws reaching out for the object of her desire, only to tumble down the stairs, "bumping her nose and banging her ear and pinching her tail. Poor Kitten." Again and again, the feline's persistent attempts to reach her goal lead to pain, frustration, and exhaustion. Repetitive phrases introduce each sequence of desire, action, and consequence, until the animal's instincts lead her home to a satisfying resolution. Done in a charcoal and cream-colored palette, the understated illustrations feature thick black outlines, pleasing curves, and swiftly changing expressions that are full of nuance. The rhythmic text and delightful artwork ensure storytime success. Kids will surely applaud this cat's irrepressible spirit. Pair this tale with Frank Asch's classic Moongame (S & S, 1987) and Nancy Elizabeth Wallace's The Sun, the Moon and the Stars (Houghton, 2003) for nocturnal celebrations.-Wendy Lukehart, Washington DC Public Library Copyright 2004 Reed Business Information.
Copyright © Reed Business Information, a division of Reed Elsevier Inc. All rights reserved.