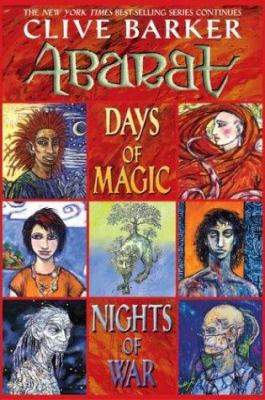 Abarat: Days of Magic, Nights of War
by Clive Barker


Publishers Weekly Favorite characters from lands near and far return in a multitude of fall sequels. Abarat: Days of Magic, Nights of War arrives as the follow-up to Clive Barker's Abarat. PW said of the first book, "[Barker] cooks up a surreal stew of character portraits." Here, Candy, the human heroine of the first book, and Malingo the geshrat avoid Otto Houlihan (aka the "Criss-Cross Man") and Christopher Carrion, the Prince of Midnight, as they travel across the strange landscape. Candy discovers new abilities and insights into the battle between the Night-world and Day-world. Once again, Barker's paintings of the creatures help draw readers into this fantastical realm. Copyright 2004 Reed Business Information.
Copyright © Reed Business Information, a division of Reed Elsevier Inc. All rights reserved.
School Library Journal Gr 7-10-In this sequel to Abarat (HarperCollins, 2002), Candy Quackenbush is fighting for her life in the mysterious world of the Abarat. The powers of darkness, Christopher Carrion and his murderous grandmother, Mater Motley, plan to overtake it and make it a world of perpetual midnight. As Candy and her friends rush through various adventures, Carrion's obsession with finding her grows, along with his rage and frustration. He hires the Criss-Cross Man, Otto Houlihan, to hunt Candy down. A group of adventurers, including John Mischief and his brothers, continues to look for dragon-hunting hero Finnegan Hob. Candy learns Abarat's history and begins to understand the role she may play in its future. This second title relies on exposition from the first; readers without that grounding may find themselves lost in Abarat's complications. The threads of the narrative take a long time to weave into a unified story, but it's worth the time it takes. With a large cast, a complicated plot, and such varied geography, Barker keeps readers busy juggling, but all that work pays off as the suspense and tension mount. Candy and her allies are engaging characters, if uncomplicated; Carrion and his grandmother are more mustache-twirling than interesting. The Abaratian world is the jewel of this novel, dense and vividly rendered in both striking description and Barker's vibrant artwork. Fans of the first book, as well as of other robust fantasy titles like Garth Nix's Sabriel (HarperCollins, 1996) and Diana Wynne Jones's Dark Lord of Derkholm (Greenwillow, 1998), will enjoy it.-Sarah Couri, New York Public Library Copyright 2004 Reed Business Information.
Copyright © Reed Business Information, a division of Reed Elsevier Inc. All rights reserved.
Book list Gr. 7-12. The whimsy is back in full force in the sequel to Abarat (2002), but this story is quirkier, much darker, and laced with real horror. Candy Quakenbush of Chickentown, Minnesota, and the geshrat Malingo are traveling the islands of Abarat, taking in all the fantastic sights. Unfortunately, the Lord of Midnight and his evil minions are in hot pursuit. He is obsessed with Candy, but he knows she must die to prevent her thwarting his gruesome plans. The mystery of her birth haunts her as she gradually finds herself remembering things she shouldn't know, including magic, and she begins to wonder if the struggle between the Night-world and the Day-world is at the heart of why she is in the strange land. Barker lovingly and graphically describes the wonders of a magical world, and his vivid scenes of near captures, deaths, and a climactic sea battle that ends in Chickentown will keep readers on the edge of their seats. Once again, more than 100 unusual, full-color paintings by Barker enhance the story. --Sally Estes Copyright 2004 Booklist
From Booklist, Copyright © American Library Association. Used with permission.