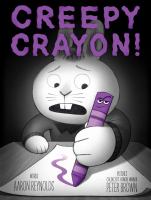 Book list
From Booklist, Copyright © American Library Association. Used with permission.

Reynolds and Brown take Harold and the Purple Crayon into the twilight zone as young Jasper, having survived previous encounters with Creepy Carrots! (2012) and a Creepy Pair of Underwear! (2017), discovers that the crayon he finds in the gutter puts down correct answers on every test—but also insists on redoing his art project, creating an elaborate mural and leaving the ominous message: "YOU NEED ME." What can Jasper do when the crayon even comes back from being broken, melted, and thrown away, looking fresher than ever? Suddenly the unearned A+ grades and accolades from his teacher seem empty triumphs. Young audiences will respond sympathetically to Jasper's sad expression in Brown's atmospherically shadowy scenes as he is showered with praise at school and cheer him on when he firmly flushes the outraged bully away (and it, in a properly creepy epilogue, finds another victim). Yes, Jasper only gets a C+ on the next test, but it's glorious because it's his. Even readers who wouldn't mind a smart crayon of their own should see the value in that.
---
Kirkus
Copyright © Kirkus Reviews, used with permission.

When a young rabbit who's struggling in school finds a helpful crayon, everything is suddenly perfect—until it isn't. Jasper is flunking everything except art and is desperate for help when he finds the crayon. "Purple. Pointy…perfect"—and alive. When Jasper watches TV instead of studying, he misspells every word on his spelling test, but the crayon seems to know the answers, and when he uses the crayon to write, he can spell them all. When he faces a math quiz after skipping his homework, the crayon aces it for him. Jasper is only a little creeped out until the crayon changes his art—the one area where Jasper excels—into something better. As guilt-ridden Jasper receives accolade after accolade for grades and work that aren't his, the crayon becomes more and more possessive of Jasper's attention and affection, and it is only when Jasper cannot take it anymore that he discovers just what he's gotten himself into. Reynolds' text might as well be a Rod Serling monologue for its perfectly paced foreboding and unsettling tension, both gentled by lightly ominous humor. Brown goes all in to match with a grayscale palette for everything but the purple crayon—a callback to black-and-white sci-fi thrillers as much as a visual cue for nascent horror readers. (This book was reviewed digitally.) Chilling in the best ways. (Picture book. 4-7) Copyright © Kirkus Reviews, used with permission.