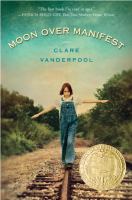 Publishers Weekly
(c) Copyright PWxyz, LLC. All rights reserved

Set in 1936, this memorable coming-of-age story follows 12-year-old Abilene Tucker's unusual summer in her father's hometown of Manifest, Kans., while he's away on a railroad job. Having had an itinerant upbringing, Abilene is eager to connect to her father's childhood, a goal that proves difficult. The immigrant town has become rundown, but is populated with well-developed, idiosyncratic characters and has a dynamic past involving the KKK, an influenza scare, and a bootlegging operation. Manifest's history emerges in stories recounted by Miss Sadie (a Hungarian medium) and in news columns written in 1917 by Hattie Mae Harper, "Reporter About Town." With new friends Lettie and Ruthanne, Abilene pieces together the past, coming to understand, as Miss Sadie says, that "maybe what you're looking for is not so much the mark your daddy made on this town, but the mark the town made on your daddy." Witty, bold, and curious, Abilene is as unforgettable as the other residents of Manifest, and the variety of voices allows the town's small mysteries to bloom. Replete with historical details and surprises, Vanderpool's debut delights, while giving insight into family and community. Ages 9-12. (Oct.) (c) Copyright PWxyz, LLC. All rights reserved.
---
School Library Journal
(c) Copyright Library Journals LLC, a wholly owned subsidiary of Media Source, Inc. No redistribution permitted.

Gr 5-8-History and fiction marry beautifully in this lively debut novel. It's as if readers jump off the train in Manifest, KS, in 1936 with Abilene Tucker, 12, the feisty, likable, and perceptive narrator. She is there to live with Pastor Shady Howard, her father's friend, while her father works on the railroad back in Iowa. An equally important story set during World War I is artfully intertwined. Since her mother went off on her own 10 years earlier, Abilene and Gideon have been alone. Though their life together is unsettled, their bond is strong. Shady's place is shabby, but he is welcoming. The mystery about Manifest and Gideon unfolds after Abilene finds a box filled with intriguing keepsakes. It includes a letter dated 1917 to someone named Jinx from Ned Gillen that has a warning, "THE RATTLER is watching." This starts Abilene, with the help of new friends Ruthanne and Lettie, on a search to learn the identity of the pair. The story cleverly shifts back and forth between the two eras. Abilene becomes connected to Miss Sadie, a "diviner" who slowly leads her through the story of Ned and Jinx. Though the girl is lonely, she adjusts to her new life, feeling sure that her father will come for her at summer's end. The Ku Klux Klan and its campaign against the many immigrants working in the coal mines and the deplorable conditions and exploitation of these men provide important background. This thoroughly enjoyable, unique page-turner is a definite winner.-Renee Steinberg, formerly at Fieldstone Middle School, Montvale, NJ (c) Copyright 2010. Library Journals LLC, a wholly owned subsidiary of Media Source, Inc. No redistribution permitted.
---
Book list
From Booklist, Copyright © American Library Association. Used with permission.

*Starred Review* After a life of riding the rails with her father, 12-year-old Abilene can't understand why he has sent her away to stay with Pastor Shady Howard in Manifest, Missouri, a town he left years earlier; but over the summer she pieces together his story. In 1936, Manifest is a town worn down by sadness, drought, and the Depression, but it is more welcoming to newcomers than it was in 1918, when it was a conglomeration of coal-mining immigrants who were kept apart by habit, company practice, and prejudice. Abilene quickly finds friends and uncovers a local mystery. Their summerlong spy hunt reveals deep-seated secrets and helps restore residents' faith in the bright future once promised on the town's sign. Abilene's first-person narrative is intertwined with newspaper columns from 1917 to 1918 and stories told by a diviner, Miss Sadie, while letters home from a soldier fighting in WWI add yet another narrative layer. Vanderpool weaves humor and sorrow into a complex tale involving murders, orphans, bootlegging, and a mother in hiding. With believable dialogue, vocabulary and imagery appropriate to time and place, and well-developed characters, this rich and rewarding first novel is like sucking on a butterscotch. Smooth and sweet. --Isaacs, Kathleen Copyright 2010 Booklist