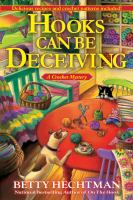 Kirkus
Copyright © Kirkus Reviews, used with permission.

An exciting new opportunity is fraught with unexpected problems.Molly Pink and Adele Abrams both work at Shedd Royal Books and More, whose More is a yarn/crafts area. When the Craftee Channel wants to film their new show Creating with Crochet at the store, their boss asks Molly to act as the contact person, affronting Adele, who considers herself the crochet expert and is a bit of a drama queen. The show has hired as host former teen star Rory Graham, whose crocheting abilities are nil. Hoping to get more air time, Adele agrees to teach her but finds Rory a most reluctant learner. Molly, a widow who lives with several dogs and cats and sometimes her musician son, has been dating prominent lawyer Mason Fields ever since her relationship with Homicide Detective Barry Greenberg foundered on her inability to stay out of detecting (On the Hook, 2018, etc.) and his inability to put anything ahead of his job. Meanwhile, the store is a meeting place for the Tarzana Hookers, whose newest members are Connie Richards and Marianne Freeman. Connie seems to be a companion for Marianne, a quiet woman with noticeable problems focusing. When Molly goes to Marianne's house to return some crocheting she left at the store, the cops, including Barry, are already there because Connie's been electrocuted on the lawn, maybe accidentally, maybe not. Disagreeing with his partner, who thinks Marianne is guilty, Barry secretly visits Molly to get more information. Her sleuthing reveals that Marianne is on oodles of pills her overprotective brother Errol has forced her to take for some nervous problems. Errol also insists that Marianne have a minder and wants her to sell the valuable property she lives on. Can Molly possibly identify the person who killed Connie and keep the crochet show from disaster while juggling two boyfriends?Hechtman's lucky 13th is a character-driven cozy whose mystery is solid enough to raise it above the average. Copyright Kirkus Reviews, used with permission.
---
Publishers Weekly
(c) Copyright PWxyz, LLC. All rights reserved

A lively ensemble cast led by Molly Pink, assistant manager of Shedd & Royal Books in Tarzana, Calif., lifts Hechtman's entertaining, well-paced 13th Crochet mystery (after On the Hook). Molly and the other crochet enthusiasts who call themselves the Tarzana Hookers are all abuzz because the Craftee Channel plans to feature them in the first episode of a new program, to be filmed in the shop. Amid this excitement, two new members join the Hookers: Marianne Freeman and her assistant/companion, Connie Richards. When Connie is fatally electrocuted in what seems a bizarre accident, Molly's ex-boyfriend, homicide detective Barry Greenberg, surprises her by asking that she do a little sleuthing on the case, finally admitting that her instincts have proven valuable in the past. Hechtman skillfully weaves the whodunit plot with intriguing personal story lines: How will Dinah Lyons, Molly's best friend, deal with her deeply unpleasant visiting stepdaughter? And who's the pseudonymous author of the steamy, self-published novel, The Hot Zone, who tells Molly at her book signing event that she trained Connie as a companion? Cozy fans will have fun. Agent: Jessica Faust, BookEnds Literary. (Dec.) © Copyright PWxyz, LLC. All rights reserved.