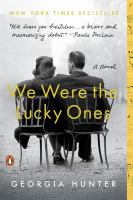 Book list
From Booklist, Copyright © American Library Association. Used with permission.

The Kurcs Sol, Nechuma, and their five children, ranging in age from 21 to 31 are a prosperous, educated Jewish family living in Radom, Poland. Hunter's novel about what happens to the family after the Germans invade in 1939 is based on her own family's experiences and follows several strands. Sol and Nechuma are forced into the Radom Ghetto when their house is confiscated. Son Genek is in Lodz when it becomes part of Soviet-occupied Poland; he and his wife are arrested and sent to a labor camp in Siberia before becoming part of the Polish army when Russia switches sides. Another son, Addy, is in France when the war breaks out and manages to escape to Brazil. Jakob, Helena, and Mila make their way to Warsaw, where false papers help make the difference between life and death. Historical context is provided by the chunks of exposition that are folded into the personal stories, which are compellingly told. Amid the many accounts of Jews who did not survive the Holocaust, this novel stands out in its depiction of one lucky family who, miraculously, did.--Quinn, Mary Ellen Copyright 2017 Booklist
---
Publishers Weekly
(c) Copyright PWxyz, LLC. All rights reserved

Debut author Hunter excavates the remarkable history of her own family in this chronicle, which follows the journeys of a Polish Jewish family during the Holocaust. The 1939 German invasion of Poland sunders the Kurc family. Aging parents Sol and Nechuma stay in their home of Radom, along with their adult daughters Halina and Mila. Their sons Genek and Jakob join the Polish army; a third son, Addy, is stuck in France, soon to be conscripted. During the course of the war, the Kurcs are flung to distant points on the globe, from Brazil to Siberia. They work for the underground, fight battles in Italy, and are imprisoned in gulags. They stage daring escapes from ghettos, hide in plain sight in Polish cities, and, always, yearn for the days when their family was whole. V-day finds some of the Kurcs together, but the celebration is empty; they are still sundered, mourning, and directionless. The Kurc family's final triumph is not tied to the defeat of the Nazis, but to the family's survival and reunion against impossible odds. However, this is not a saga with a jubilant Hollywood ending. The Kurc family's survival is often due to nothing more than desperate luck. Hunter sidesteps hollow sentimentality and nihilism, revealing instead the beautiful complexity and ambiguity of life in this extraordinarily moving tale. (Feb.) © Copyright PWxyz, LLC. All rights reserved.
---
Library Journal
(c) Copyright Library Journals LLC, a wholly owned subsidiary of Media Source, Inc. No redistribution permitted.

First-time novelist Hunter got the idea for this book in conversations with her grandmother after unearthing family history of which she'd been ignorant. Casting her tale in fictional form, she traces the fortunes of the large Kurc family from their home in Radom, Poland, just before World War II until they all make it safely to the New World via various paths during and after war's end. Their experiences include son Addy's fraught journey as a student in prewar Paris to Brazil, where he sits out the conflict. Another brother and his wife are exiled to Siberia by Soviet forces until they find their way west again. One of their sisters saves herself and her daughter from being shot in a field with a trainload of other Jews. The book's title almost gives away too much, and one wonders whether the story would have had more resonance if Hunter had written a factual account. Though the author relates some cliff-hanging episodes, their impact is marred by uninspired dialog and commentary: "Bella was still a wreck," "Her grief is larger than words." And despite the wide-ranging encounters, we learn nothing new about the Holocaust. VERDICT This nonetheless engrossing read is best recommended for those who enjoy fiction set during World War II and sprawling -family sagas. [See Prepub Alert, 8/26/16.]-Edward Cone, New York © Copyright 2016. Library Journals LLC, a wholly owned subsidiary of Media Source, Inc. No redistribution permitted.