Now Exhibiting - City Hall
Valerie Orlemann - October through January.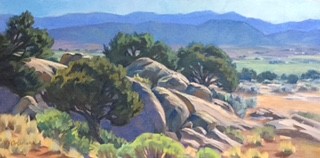 I'm a realist landscape painter working with oil on canvas. I studied art at the University of Utah, completing most of the BFA program before parenthood (and a new job for my husband in Escalante) redirected my artistic efforts. I wound up far from art school, but surrounded by beautiful landscapes. With our daughter (now a teenager!), my husband and I have explored much of southern Utah and the Four Corners. Out in the field and back in my studio, I've tried to capture what I find most engaging in the landscape around me.
For more information: orlemannart.com