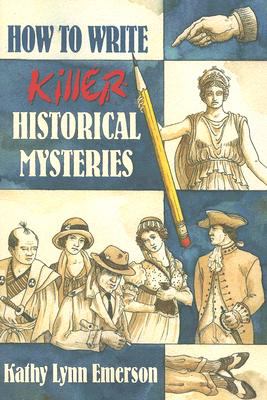 How to write killer historical mysteries : the art and adventure of sleuthing through the past
by Kathy Lynn Emerson.


Book list Emerson, author of the Lady Appleton and Diana Spaulding mystery series, turns her hand to how it's done in this useful guide to writing historical crime fiction. Drawing on her own works and those of her fellow historical-mystery writers (Kerry Greenwood, Alan Gordon, Carola Dunn, and others), she lays out, in commonsense sequence, the stages of planning and writing a historical mystery. Chapters on choosing setting and character, research, crafting a plot, and selling your book offer much of the same information as similar chapters in other how-to books for mystery writers, but the information is nicely tailored for this particular genre. Published writers probably won't find much here that they don't already know, but budding historical novelists will discover a wealth of helpful tips and may want to keep a notebook handy to jot them down. The book finds its niche and fills it well.--Pitt, David Copyright 2008 Booklist
From Booklist, Copyright © American Library Association. Used with permission.