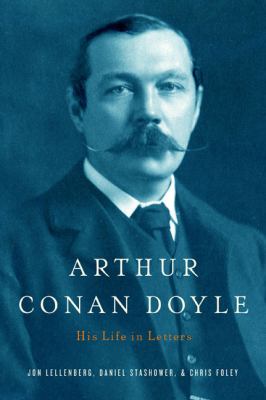 Arthur Conan Doyle: A Life in Letters
by Jon Lellenberg, Daniel Stashower and Charles Foley


Library Journal The enduring popularity of Sir Arthur Conan Doyle (1859-1930) can largely be attributed to his stories of Sherlock Holmes-one of the most widely recognized characters in English literature. Edited by Lellenberg, U.S. agent for the Conan Doyle estate; Charles Foley, the Victorian writer's great-nephew; and mystery novelist/biographer Daniel Stashower, this volume excerpts Conan Doyle's previously unpublished letters, most written to his mother. In addition to covering his literary pursuits, it chronicles the near-complete range of Doyle's life, from letters he wrote as a schoolboy to correspondence dating from the decade before his death. The letters stand as a companion to Stashower's Teller of Tales: The Life of Arthur Conan Doyle, which relates the details of Conan Doyle's medical career, his enlistment in the Boer War, his attempts to stand for Parliament, and the untimely death of his son, Kingsley. This latter event deepened Doyle's interest in spiritualism, for which he became an avid crusader. The text is illustrated with portraits and photographs as well as reproductions of manuscript pages and early editions; the editors place the letters in context with copious annotations. An invaluable addition to public and academic libraries.-Alison M. Lewis, formerly with Drexel Univ. Lib., Philadelphia Copyright 2007 Reed Business Information.
Copyright © Reed Business Information, a division of Reed Elsevier Inc. All rights reserved.
Book list *Starred Review* Best known as the creator of Sherlock Holmes, Doyle was a man of many talents. Besides being a celebrated author, he was a physician, a sportsman, an advocate for criminal and social justice, a war correspondent, a military historian, and, late in life, a spokesman and activist for a new religion, spiritualism. All those aspects of him are reflected by this massive and annotated collection of previously unpublished letters written from the 1860s, when he was a schoolboy, to the year of his death, 1930. Many were written to his mother, Mary Foley Doyle, to whom he was especially close. The letters trace his development as a writer ( Sherlock Holmes seems to have caught on, he writes his mother) but also deal with subjects including Britain's role in the controversial war in South Africa, domestic politics, the perennial Irish problem, women's suffrage, World War I, and the coming of the automobile. Born in Scotland to parents of Irish descent, he thought of himself as an Englishman, albeit one acutely conscious of his diverse ethnic makeup. To fill in the blanks left by Doyle's sloppiness with dates, the editors, all Doyle scholars, provide commentary and a narrative continuum. A towering academic achievement, this is also an essential item for anyone interested in Doyle, his work, and his era.--Sawyers, June Copyright 2007 Booklist
From Booklist, Copyright © American Library Association. Used with permission.
Publishers Weekly This fascinating collection of previously unpublished letters from the creator of Sherlock Holmes offers a revealing glimpse of a Renaissance man fated to be overshadowed by his most famous character. Beginning with correspondence from Doyle as an eight-year-old in 1867, the editors offer a warts-and-all picture of his life until 1920, 10 years before his death, covering the author's frank accounts of life at a boarding school, his struggles as a young doctor and aspiring writer, and his political advocacy. Those seeking insights into the creation of Holmes may be disappointed; while Doyle's ambivalence toward Holmes is well known, this collection reveals the extent to which he viewed his character principally as a source of income rather than a lasting legacy. The editors-Doyle experts Lellenberg and Stashower, and Doyle's great-nephew Foley-have nicely balanced the content: the letters reveal Doyle's stiff upper lip when he lost a son during the Great War, and his sense of humor, as in a hilarious report to his mother on the birth of his daughter Mary. This will be essential reading for all fans of Conan Doyle and his sleuth. (Andrew Lycett's biography of Conan Doyle, The Man Who Created Sherlock Holmes, is due from the Free Press this fall.) Illus. (Nov. 1) Copyright 2007 Reed Business Information.
Copyright © Reed Business Information, a division of Reed Elsevier Inc. All rights reserved.