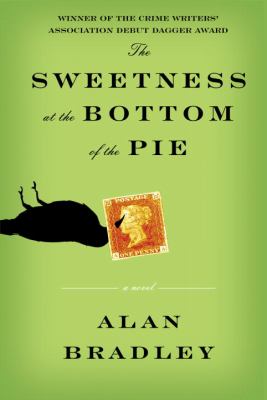 The Sweetness at the Bottom of the Pie
by Alan Bradley


Book list *Starred Review* Canadian Alan Bradley's first full-length crime novel is delightful. Like fellow Canadian Louise Penny, his book is the recipient of the Debut Dagger Award from Canada's Crime Writers' Association. Sweetness introduces a charming and engaging sleuth who is only 11 years old. Flavia is one of three precocious and extremely literate daughters being raised by English widower Colonel de Luce in 1950. Flavia's passion is chemistry (with a special interest in poisons). She is able to pursue her passion in the fully equipped Victorian laboratory in Buckshaw, the English mansion where the de Luce family lives. The story begins with a dead snipe (with a rare stamp embedded on its beak) found on the back doorstep. This is followed by a dead human body in the garden and, later, by a poisonous custard pie. Revelations about the mysterious past of Colonel de Luce complicate matters. Others supporting players include the housekeeper, Mrs. Mullet, and the gardener, Dogger, who suffers from shell shock. When Colonel de Luce is arrested for murder, it's up to Flavia to solve the mystery. The 11-year-old claims she is not afraid because this was by far the most interesting thing that had ever happened to me in my entire life. Only those who dislike precocious young heroines with extraordinary vocabulary and audacious courage can fail to like this amazingly entertaining book. Expect more from the talented Bradley.--Coon, Judy Copyright 2009 Booklist
From Booklist, Copyright © American Library Association. Used with permission.
Publishers Weekly Fans of Louise Fitzhugh's iconic Harriet the Spy will welcome 11-year-old sleuth Flavia de Luce, the heroine of Canadian journalist Bradley's rollicking debut. In an early 1950s English village, Flavia is preoccupied with retaliating against her lofty older sisters when a rude, redheaded stranger arrives to confront her eccentric father, a philatelic devotee. Equally adept at quoting 18th-century works, listening at keyholes and picking locks, Flavia learns that her father, Colonel de Luce, may be involved in the suicide of his long-ago schoolmaster and the theft of a priceless stamp. The sudden expiration of the stranger in a cucumber bed, wacky village characters with ties to the schoolmaster, and a sharp inspector with doubts about the colonel and his enterprising young detective daughter mean complications for Flavia and enormous fun for the reader. Tantalizing hints about a gardener with a shady past and the mysterious death of Flavia's adventurous mother promise further intrigues ahead. (Apr.) Copyright 2009 Reed Business Information.
Copyright © Reed Business Information, a division of Reed Elsevier Inc. All rights reserved.
Library Journal An 11-year-old solving a dastardly murder in the English countryside in 1950 wouldn't seem to be everyone's cup of tea. But Flavia Sabina de Luce is no ordinary child: she's already an accomplished chemist, smart enough to escape being imprisoned by her older sisters and to exact revenge, forthright and fearless to the point of being foolhardy, and relentless in defending those she loves. When she spies on her father arguing heatedly with a strange man late at night and the next morning finds that man buried in the cucumber patch, she sets out, riding her bicycle named Gladys, to make sense of it all. And when her father-a philatelist and widower for a decade who still mourns his wife-is arrested, Flavia's efforts are intensified. She delves into the backstory, involving the death of her father's beloved teacher years earlier and the loss of a rare stamp, and puts together the pieces almost too late. The stiff-upper-lip de Luce family is somewhat stereotypically English, but precocious Flavia is unique. Winner of the Debut Dagger Award, this is a fresh, engaging first novel with appeal for cozy lovers and well beyond. [See Prepub Mystery, LJ 1/09.]-Michele Leber, Arlington, VA Copyright 2009 Reed Business Information.
Copyright © Reed Business Information, a division of Reed Elsevier Inc. All rights reserved.
School Library Journal Adult/High School-When a stranger shows up dying in her family's cucumber patch in the middle of the night, 11-year-old Flavia de Luce expands her interests from chemistry and poisons to sleuthing and local history. The youngest of a reclusive widower's three daughters, Flavia is accustomed to independence and takes delight in puzzles and "what if's." She is well suited to uncovering the meaning of the dead snipe left at the kitchen door, the story behind the bright orange Victorian postage stamps, and-eventually-the identity of the murderer and his relationship to the dying man. Bradley sets the protagonist on a merry course that includes contaminating her oldest sister's lipstick with poison ivy, climbing the bell tower of the local boys' school, and sifting through old newspapers in the village library's outbuilding. Flavia is brave and true and hilarious, and the murder mystery is clever and satisfying. Set in 1950, the novel reads like a product of that time, when stories might include insouciance but relative innocence, pranks without swear words, and children who were not so overscheduled or frightened that they couldn't make their way quite nicely in chatting up the police or the battle-shocked family retainer. Mystery fans, Anglophiles, and science buffs will delight in this book and may come away with a slightly altered view of what is possible for a headstrong girl to achieve.-Francisca Goldsmith, Halifax Public Libraries, Nova Scotia Copyright 2009 Reed Business Information
Copyright © Reed Business Information, a division of Reed Elsevier Inc. All rights reserved.