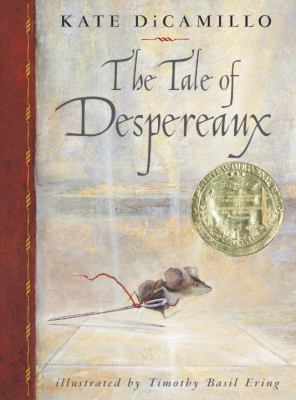 Tale of Despereaux
by Kate DiCamillo


School Library Journal Gr 3 Up-In this delightful novel, a tiny mouse risks all to save the princess he loves from the clutches of a devious rat and a slow-witted serving girl. With memorable characters, brief chapters, and inventive plot twists, this fast-paced romp is perfect for reading alone or sharing aloud. Winner of the 2004 Newbery Medal. Copyright 2004 Reed Business Information.
Copyright © Reed Business Information, a division of Reed Elsevier Inc. All rights reserved.
School Library Journal Gr 3 Up-A charming story of unlikely heroes whose destinies entwine to bring about a joyful resolution. Foremost is Despereaux, a diminutive mouse who, as depicted in Ering's pencil drawings, is one of the most endearing of his ilk ever to appear in children's books. His mother, who is French, declares him to be "such the disappointment" at his birth and the rest of his family seems to agree that he is very odd: his ears are too big and his eyes open far too soon and they all expect him to die quickly. Of course, he doesn't. Then there is the human Princess Pea, with whom Despereaux falls deeply (one might say desperately) in love. She appreciates him despite her father's prejudice against rodents. Next is Roscuro, a rat with an uncharacteristic love of light and soup. Both these predilections get him into trouble. And finally, there is Miggery Sow, a peasant girl so dim that she believes she can become a princess. With a masterful hand, DiCamillo weaves four story lines together in a witty, suspenseful narrative that begs to be read aloud. In her authorial asides, she hearkens back to literary traditions as old as those used by Henry Fielding. In her observations of the political machinations and follies of rodent and human societies, she reminds adult readers of George Orwell. But the unpredictable twists of plot, the fanciful characterizations, and the sweetness of tone are DiCamillo's own. This expanded fairy tale is entertaining, heartening, and, above all, great fun.-Miriam Lang Budin, Chappaqua Public Library, NY Copyright 2003 Reed Business Information.
Copyright © Reed Business Information, a division of Reed Elsevier Inc. All rights reserved.
Publishers Weekly The author of Because of Winn-Dixie and The Tiger Rising here shifts gears, demonstrating her versatility while once again proving her genius for mining the universal themes of childhood. Her third novel calls to mind Henry Fielding's Tom Jones; DiCamillo's omniscient narrator assumes a similarly irreverent yet compassionate tone and also addresses readers directly. Despereaux, the diminutive mouse hero ("The last mouse born to his parents and the only one of his litter to be born alive"), cares not a whit for such mundane matters as scurrying or nibbling, and disappoints his family at every turn. When his sister tries to teach him to devour a book, for example ("This glue, here, is tasty, and the paper edges are crunchy and yummy, like so"), Despereaux discovers instead "a delicious and wonderful phrase: Once upon a time"-a discovery that will change his life. The author introduces all of the elements of the subtitle, masterfully linking them without overlap. A key factor unmentioned in the subtitle is a villainous rat, Chiaroscuro (dwelling in the darkness of the Princess's dungeon, but drawn to the light). Ering (The Story of Frog Belly Rat Bone) brings an understated drama to the black-and-white illustrations that punctuate each chapter. His artwork conveys a respect for the characters even as they emit the wry humor of the narrator's voice. The teller of the tale roots for the hero and thus aligns himself with the audience: "Reader, you must know that an interesting fate (sometimes involving rats, sometimes not) awaits almost everyone, mouse or man, who does not conform." In addition to these life lessons, the narrator also savors a pointer or two about language (after the use of the word "perfidy," the narrator asks, "Reader, do you know what `perfidy' means? I have a feeling you do, based on the little scene that has just unfolded here. But you should look up the word in your dictionary, just to be sure"). Reader, I will let you imagine, for now, how these witticisms of our omniscient narrator come into play; but I must tell you, you are in for a treat. Ages 7-12. (Sept.) Copyright 2003 Reed Business Information.
Copyright © Reed Business Information, a division of Reed Elsevier Inc. All rights reserved.
Book list Gr. 3-6. Forgiveness, light, love, and soup. These essential ingredients combine into a tale that is as soul stirring as it is delicious. Despereaux, a tiny mouse with huge ears, is the bane of his family's existence. He has fallen in love with the young princess who lives in the castle where he resides and, having read of knights and their ladies, vows to honor her. But his unmouselike behavior gets him banished to the dungeon, where a swarm of rats kill whoever falls into their clutches. Another story strand revolves around Miggery, traded into service by her father, who got a tablecloth in return. Mig's desire to be a princess, a rat's yen for soup (a food banished from the kingdom after a rat fell in a bowl and killed the queen), and Despereaux's quest to save his princess after she is kidnapped climax in a classic fairy tale, rich and satisfying. Part of the charm comes from DiCamillo's deceptively simple style and short chapters in which the author addresses the reader: Do you think rats do not have hearts? Wrong. All living things have a heart. And as with the best stories, there are important messages tucked in here and there, so subtly that children who are carried away by the words won't realize they have been uplifted until much later. Ering's soft pencil illustrations reflect the story's charm. --Ilene Cooper Copyright 2003 Booklist
From Booklist, Copyright © American Library Association. Used with permission.