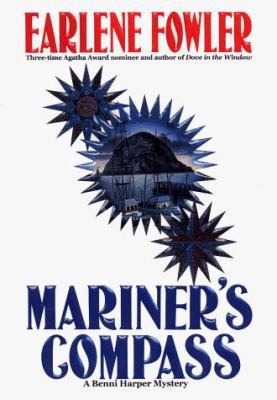 Mariners Compass
by Earlene Fowler


Library Journal In order to inherit a house from a man she never met, series protagonist Benni Harper (Dove in the Window, Prime Crime: Berkley, 1998) must spend two weeks alone in it. There, the folk art museum curator and sleuth follows mysterious clues her benefactor left behind. For series fans. Copyright 1999 Cahners Business Information.
Copyright © Reed Business Information, a division of Reed Elsevier Inc. All rights reserved.
Publishers Weekly A bizarre inheritance, a dangerous quest and a political battle are the main events of Benni Harper's captivating sixth adventure (after Dove in the Window). Benni's work at the San Celina Folk Art Museum is interrupted when she unexpectedly inherits the estate of a stranger named Jacob Chandler. His house in Morro Bay is worth $200,000, but Chandler's will stipulates that Benni can keep the windfall only if she lives in the house for two weeksÄalone. As expected, her protective husband, police chief Gabe, is none too happy about this development. But Benni is unwilling to turn down the money, and more important, her curiosity is piqued. After all, why would someone she'd never met make her his sole heir, especially when it turns out that many others were expecting to benefit from his death? To find the answer, Benni embarks on a dangerous search for Chandler's motives, following a series of cryptic notes that he's left for her all over California. Meanwhile, Gabe has his hands full keeping peace between San Celina's mayor and Benni's formidable Gramma Dove, who leads a sit-in at the Historical Museum to thwart the mayor's plan to convert it into a restaurant. As Benni's inquiries lead to unsettling information about her mother, who died when Benni was six, Fowler captures her plucky heroine's secret anxieties, but offsets them with a good dose of humor. Benni's need to know the truth about her family imbues the novel with alluring intimacy and suspense. And Chandler's penchant for wood carving provokes engaging descriptions of that craft, which accompany Fowler's usual bits on quilting and food. Chandler's puzzles test Benni's relationships with her husband, father and grandmother in this excellent addition to a notable series. (May)
Copyright © Reed Business Information, a division of Reed Elsevier Inc. All rights reserved.
Book list Ex-cowgirl and California Central Coast resident Benni Harper has inherited the house of Jacob Chandler, a man she never met. Chandler's will requires Benni to live in the house for two weeks and to solve a mystery. Meanwhile, her grandma Dove and six friends barricade themselves into the Historical Society to thwart a development-oriented mayor, and Benni is pursued by a mysterious assailant. In this sixth Benni Harper novel, Fowler continues to deepen her characters--eccentric and sympathetic Californians and transplanted southerners--and her plotting appears tighter and better organized. There are some surprising and funny moments here, and Fowler's skill in developing a mystery in an interesting community will appeal to fans of Rett McPherson's Veiled Antiquity and Leslie Meier's Valentine Murder [both BKL Je 1 & 15 98]. --John Rowen
From Booklist, Copyright © American Library Association. Used with permission.