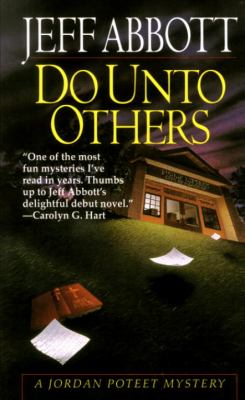 Do Unto Others
by Jeff Abbott


Publishers Weekly Abbott's debut mystery is a bright, often funny portrayal of the social mechanics of a small town, where, as the narrator/accused/detective quickly discovers, everyone has something to hide. Jordan Poteet has left a thriving publishing career back East to return to his home town in Mirabeau, Texas-a town as backward and insulated as any cliché-to care for his ailing mother and work as the local librarian. Quickly, Jordan is accused of the gruesome murder of a nasty, churchgoing town elder who is at odds with the library's ``liberal'' policies. With a redneck assistant D.A. on his heels, Jordan tries to prove his innocence. Abbott is highly skilled and at ease with the twang and tone of Texas folk and often seems in control of his story. The problem is Abbott has stuffed his relatively short book full-too full. He covers almost every hot topic from censorship to religious fanaticism to Alzheimer's to blackmail. The cast of characters is so vast that Abbott is forced to rehash his hero's suspect list more than once, and though the sweetly handled and satisfying romantic subplot stands out, more often readers will find themselves lost in a sea of personalities. While often engaging, Abbott simply weaves too large a web for a small-town tale. It's a little hard to imagine how this once-in-a-lifetime will translate into the series promised by the cover. (Nov.)
Copyright © Reed Business Information, a division of Reed Elsevier Inc. All rights reserved.
Library Journal Jeff Abbott's Do Unto Others (Ballantine. 1994. ISBN 0-345-38948-4. pap. $6.50) introduces small-town head librarian (though non-MLS) Jordan Poteet, who leaves a Boston publishing job for his Texas home town to care for his ailing mother. Jordan's run-in with local gadfly and ex-library board member Beta Harcher over removing "smut" from the shelves takes an ugly turn when Harcher is found beaten to death in the library. The weapon, a baseball bat, bears Jordan's fingerprints. Fortunately for Jordan, the victim left a list of other potential suspects complete with topical Bible verses. Copyright 2004 Reed Business Information.
Copyright © Reed Business Information, a division of Reed Elsevier Inc. All rights reserved.
Book list When his mama gets Alzheimer's and needs a caregiver, Jordan Poteet leaves his job in Boston to go home to Mirabeau, Texas. Luckily, the job as head of the Mirabeau library opens up, so even though Jordy doesn't have an MLS (gasp!), he's hired. Local harpy Beta Harcher immediately jumps on Jordy's case about the library's owning smut by authors like Twain, Lawrence, and Hawthorne. Unfortunately, the day after she and Jordy have a big argument, the woman is found bludgeoned to death, and Jordy ends up tops on Sheriff "Junebug" Moncrief's suspect list. Jordy knows he didn't kill Beta, and he doesn't want to end up in the pokey, so he decides to find the murderer. Abbott's writing is folksy and full of cornpone humor, and the plot is one of those every-small-town-has-secrets types, but there are some nice comic touches, Jordy is a likable fellow, the action is flashy, and the ending is heartwarming. And it's always nice to encounter a librarian-sleuth, even one sadly lacking in professional credentials. ~--Emily ~Melton
From Booklist, Copyright © American Library Association. Used with permission.