by Laura Amy Schlitz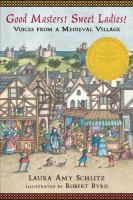 School Library Journal
(c) Copyright Library Journals LLC, a wholly owned subsidiary of Media Source, Inc. No redistribution permitted.

Gr 4-8-Couplets, blank verse, and prose bring children living in a medieval village in 1255 to life in this Newbery Medal-winning book (Candlewick, 2007) by Laura Amy Schlitz. Schlitz created these monologues for 23 characters, ranging in age between 10 and 15, to be performed by the students at the school where she is the librarian. A full cast of narrators do an exceptional job of distinguishing the different characters: the nephew of the Lord, a half-wit, a shepherdess, the blacksmith's daughter, a runaway villain, and others. Along the way, the host steps in and provides more in-depth explanations about topics such as pilgrimages, crusades, falconry, feudal land laws, and Jews in medieval society. The language is lyrical and the separate stories mesh to provide a rich picture of medieval life. Listeners will be drawn in and sympathize with the many different points of view that are offered. Robert Byrd's watercolor-tinted ink drawings add to the telling and will give teachers ideas for costumes. Youngsters who enjoy historical fiction will be enchanted. Drama, social studies, and English teachers will find multiple uses for this audio version. This performance breathes life into the print version and should be considered an essential purchase.-Tricia Melgaard, Centennial Middle School, Broken Arrow, OK (c) Copyright 2010. Library Journals LLC, a wholly owned subsidiary of Media Source, Inc. No redistribution permitted.
---
School Library Journal
(c) Copyright Library Journals LLC, a wholly owned subsidiary of Media Source, Inc. No redistribution permitted.

Gr 4-8-Schlitz helps students step directly into the shoes-and lives-of medieval children in this outstanding collection of interrelated monologues. Designed for performance and excellent for use in interdisciplinary history classrooms, the book offers students an incredibly approachable format for learning about the Middle Ages that makes the period both realistic and relevant. The text, varying from dramatic to poetic, depending on the point of view, is accompanied by historical notes that shed light on societal roles, religion, and town life. Byrd's illustrations evoke the era and give dramatists ideas for appropriate costuming and props. Browsers interested in medieval life will gravitate toward this title, while history buffs will be thrilled by the chance to make history come alive through their own voices.-Alana Abbott, James Blackstone Memorial Library, Branford, CT (c) Copyright 2010. Library Journals LLC, a wholly owned subsidiary of Media Source, Inc. No redistribution permitted.
---
Book list
From Booklist, Copyright © American Library Association. Used with permission.

*Starred Review* The author of A Drowned Maiden's Hair: A Melodrama (2006), Schlitz turns to a completely different kind of storytelling here. Using a series of interconnected monologues and dialogues featuring young people living in and around an English manor in 1255, she offers first-person character sketches that build upon each other to create a finer understanding of medieval life. The book was inspired by the necessity of creating a play suitable for a classroom where no one wanted a small part. Each of the 23 characters (between 10 and 15 years old) has a distinct personality and a societal role revealed not by recitation of facts but by revelation of memories, intentions, and attitudes. Sometimes in prose and more often in one of several verse forms, the writing varies nicely from one entry to the next. Historical notes appear in the vertical margins, and some double-page spreads carry short essays on topics related to individual narratives, such as falconry, the Crusades, and Jews in medieval society. Although often the characters' specific concerns are very much of their time, their outlooks and emotional states will be familiar to young people today. Reminiscent of medieval art, Byrd's lively ink drawings, tinted with watercolors, are a handsome addition to this well-designed book. This unusually fine collection of related monologues and dialogues promises to be a rewarding choice for performance or for reading aloud in the classroom.--Phelan, Carolyn Copyright 2007 Booklist
---
Publishers Weekly
(c) Copyright PWxyz, LLC. All rights reserved

Schlitz (The Hero Schliemann ) wrote these 22 brief monologues to be performed by students at the school where she is a librarian; here, bolstered by lively asides and unobtrusive notes, and illuminated by Byrd's (Leonardo, Beautiful Dreamer) stunningly atmospheric watercolors, they bring to life a prototypical English village in 1255. Adopting both prose and verse, the speakers, all young, range from the half-wit to the lord's daughter, who explains her privileged status as the will of God. The doctor's son shows off his skills ("Ordinary sores/ Will heal with comfrey, or the white of an egg,/ An eel skin takes the cramping from a leg"); a runaway villein (whose life belongs to the lord of his manor) hopes for freedom after a year and a day in the village, if only he can calculate the passage of time; an eel-catcher describes her rough infancy: her "starving poor [father] took me up to drown in a bucket of water." (He relents at the sight of her "wee fingers" grasping at the sides of the bucket.) Byrd, basing his work on a 13th-century German manuscript, supplies the first page of each speaker's text with a tone-on-tone patterned border overset with a square miniature. Larger watercolors, some with more intricate borders, accompany explanatory text for added verve. The artist does not channel a medieval style; rather, he mutes his palette and angles some lines to hint at the period, but his use of cross-hatching and his mostly realistic renderings specifically welcome a contemporary readership. Ages 10-up. (Aug.) (c) Copyright PWxyz, LLC. All rights reserved
---
Kirkus
Copyright © Kirkus Reviews, used with permission.

Schlitz takes the breath away with unabashed excellence in every direction. This wonderfully designed and produced volume contains 17 monologues for readers ten to 15, each in the voice of a character from an English town in 1255. Some are in verse; some in prose; all are interconnected. The language is rich, sinewy, romantic and plainspoken. Readers will immediately cotton to Taggot, the blacksmith's daughter, who is big and strong and plain, and is undone by the sprig of hawthorn a lord's nephew leaves on her anvil. Isobel the lord's daughter doesn't understand why the peasants throw mud at her silks, but readers will: Barbary, exhausted from caring for the baby twins with her stepmother who is pregnant again, flings the muck in frustration. Two sisters speak in tandem, as do a Jew and a Christian, who marvel in parallel at their joy in skipping stones on water. Double-page spreads called "A little background" offer lively information about falconry, The Crusades, pilgrimages and the like. Byrd's watercolor-and-ink pictures add lovely texture and evoke medieval illustration without aping it. Brilliant in every way. (foreword, bibliography) (Nonfiction. 10-15) Copyright İKirkus Reviews, used with permission.