by Cynthia Kadohata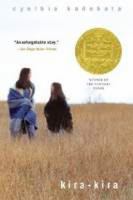 Publishers Weekly
(c) Copyright PWxyz, LLC. All rights reserved

Set in the 1950s and '60s, Kadohata's moving first novel is narrated by a first-generation Japanese-American girl who moves with her family from Iowa to Georgia when their "Oriental foods grocery store" goes out of business. There, Katie and her family face hardships, including discrimination (she is ignored by the girls at school, for example), and the harsh conditions at the poultry plant where her mother works ("thugs" make sure workers do not gather so that they cannot organize). Katie's father often sleeps at the hatchery between shifts, and when their babysitter goes away, Katie and her brother must stay in the hot car outside the plant while their mother works. But it's her doting older sister Lynn's struggle with lymphoma that really tests her family. Katie's narrative begins almost as stream-of-consciousness, reflecting a younger child's way of seeing the world. But as she matures through the challenges her family faces, so does the prose. Kadohata movingly captures the family's sustaining love-Lynn and Katie secretly save their treat money for years so they can help their parents buy a house, and when ailing Lynn gets to pick the house, she chooses a sky blue one, because Katie as a "little girl,... had told her [she] wanted our first to be sky blue." The family's devotion to one another, and Lynn's ability to teach Katie to appreciate the "kira-kira," or glittering, in everyday life makes this novel shine. Ages 11-up. (Feb.) (c) Copyright PWxyz, LLC. All rights reserved
---
Kirkus
Copyright © Kirkus Reviews, used with permission.

Katie loves and admires her older sister, Lynn, only to lose her in this story that reads like a memoir about a Japanese-American family in the 1950s. Built around the loss of Lynn to lymphoma, it belongs to Katie and stays true to her perspective. The supporting cast of extended family and friends also fits within Katie's vision of life. Humor keeps the depth of sadness at bay as Katie reports events: "If a robber came to our apartment, I would hit him over the head with a lamp. So I didn't need a bank, personally." Starting out in Iowa, the family moves to Georgia; both parents work long hours in the poultry industry to buy and then pay for a house of their own. Kadohata weaves details of life for a Japanese-American family into the narrative along with Lynn and Katie's gradual acquirement of understanding of the dominant culture around them. The vivid writing and the portrayal of a most loving and honorable father lift this above the norm. "Kira-kira" is Japanese for glittering, and Kadohata's Katie sparkles. (Fiction. 10-14) Copyright ŠKirkus Reviews, used with permission.
---
Book list
From Booklist, Copyright © American Library Association. Used with permission.

Gr. 6-12.atie Takeshima worships her older sister, Lynn, who knows everything and takes care ofatie while their parents are working long hours in their small Georgia town in the late 1950s. It's Lynn who showsatie the glittering beauty (kira-kira) of the stars and who preparesatie for the prejudice she will encounter as one of the fewapanese American kids in their school. But whenatie is 10, Lynn, 14, falls ill, and everything changes. Slowly the roles are reversed;atie becomes caregiver and does what Lynn has taught her. There's no surprise. It's clear that Lynn will die, andatie goes through all the stages of grief. The real story is in the small details, never self-consciously poetic but tense with family drama. In her first novel for young people,adohata stays true to the child's viewpoint in plain, beautiful prose that can barely contain the passionate feelings.ust as heart wrenching as the sisters' story is whatatie knows of her father's struggle, whether it's his backbreaking work in the factory or his love for his family. The quiet words will speak to readers who have lost someone they love--or fear that they could. --Hazel Rochman Copyright 2004 Booklist
---
Publishers Weekly
(c) Copyright PWxyz, LLC. All rights reserved

PW starred this Newbery winner, which is set in the 1950s and '60s and is narrated by a first-generation Japanese-American girl, saying, "The family's devotion to one another, and one sister's ability to teach her younger sister to appreciate the `kira-kira,' or glittering, in everyday life make this novel shine." Ages 10-14. (Dec.) (c) Copyright PWxyz, LLC. All rights reserved
---
Horn Book
(c) Copyright The Horn Book, Inc., a wholly owned subsidiary of Media Source, Inc. No redistribution permitted.

Katie Takeshima's first-person voice is compelling and often quietly humorous as she describes her family's move from Iowa to Georgia and her older sister's subsequent struggle with lymphoma. Katie's shrewd descriptions of people make startlingly vivid this novel that captures both the specific experience of being Japanese American in the 1950s and the wider experience of coping with illness and loss. (c) Copyright 2010. The Horn Book, Inc., a wholly owned subsidiary of Media Source, Inc. No redistribution permitted. All rights reserved.
---
School Library Journal
(c) Copyright Library Journals LLC, a wholly owned subsidiary of Media Source, Inc. No redistribution permitted.

Gr 6-8-Katie's first word is "kira-kira," the Japanese word for "glittering," and she uses it to describe everything she likes. It was taught to her by her older sister, Lynn, whom Katie worships. Both girls have trouble adjusting when their parents move the family from Iowa to a small town in rural Georgia, where they are among only 31 Japanese-Americans. They seldom see their parents, who have grueling jobs in chicken-processing plants. Then Lynn becomes deathly ill, and Katie is often left to care for her, a difficult and emotionally devastating job. When her sister dies of lymphoma, Katie searches for ways to live up to her legacy and to fulfill the dreams she never had a chance to attain. Told from Katie's point of view and set in the 1950s, this beautifully written story tells of a girl struggling to find her own way in a family torn by illness and horrendous work conditions. Katie's parents can barely afford to pay their daughter's medical bills, yet they refuse to join the growing movement to unionize until after Lynn's death. All of the characters are believable and well developed, especially Katie, who acts as a careful observer of everything that happens in her family, even though there is a lot she doesn't understand. Especially heartbreaking are the weeks leading up to Lynn's death, when Katie is exhausted and frustrated by the demands of her sister's illness, yet willing to do anything to make her happy. Girls will relate to and empathize with the appealing protagonist.-Ashley Larsen, Woodside Library, CA (c) Copyright 2010. Library Journals LLC, a wholly owned subsidiary of Media Source, Inc. No redistribution permitted.