by Kevin Henkes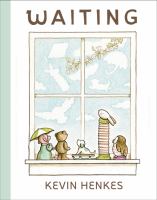 Horn Book
(c) Copyright The Horn Book, Inc., a wholly owned subsidiary of Media Source, Inc. No redistribution permitted.

Waiting is a huge part of every child's life, and Henkes uses a light touch to address the topic. Five toys, outlined in brown and filled in with muted colors, wait on a windowsill. Time passes slowly through seasons; small changes in body positions and eyes show a range of emotions. A straightforward text sets up predictable patterns with small surprises, while the design is varied to create momentum. (c) Copyright 2016. The Horn Book, Inc., a wholly owned subsidiary of Media Source, Inc. No redistribution permitted.
---
Kirkus
Copyright © Kirkus Reviews, used with permission.

Five toys ranged on a windowsill exemplify existential pleasure. In the mode of such pastel-hued, minimalist delights as A Good Day (2007), Henkes presents a pig with an umbrella, a bear with a kite, a puppy on a sled, an owl with spots, and a rabbit with stars (this last is depicted as a spring-loaded rabbit head, rather like the innards of a jack-in-the-box). Respectively, the first four wait for the rain, the wind, the snow, and the moon; the rabbit just likes waiting. Henkes keeps readers gently off-balance as to the nature of these toys' sentience. Sometimes, as when comically on their backs "sleeping," they seem stiff and immobile; other times, as when they huddle together during a thunderstorm, eyes wide and frightened, their bodies exude warmth and softness. Images are snapshots of single moments, and never is a child depicted; it is left to readers to decide whether the toys move on their own or have been posed by a hand outside the frame. The story is all about quietly filling in the gaps; though little appears to happen beyond the changing of seasons and arrival (and in one case, tragic departure) of other toys, the protagonists' contentment with just waiting is contagious. Waiting as a joyful activity in itself is almost never celebrated; this Zen-like meditation might win some converts. (Picture book. 3-6) Copyright Kirkus Reviews, used with permission.
---
Book list
From Booklist, Copyright © American Library Association. Used with permission.

*Starred Review* A pig with an umbrella, a spotted owl, a puppy on a sled, a bear holding a kite, and a rabbit with a long accordion body. These five little toys look out a tall window at nothing much, waiting. Pig waits for rain; Owl, the moon; Bear, the wind; Puppy, the snow; and Rabbit just waits. One day they are joined by a round wobble of a cat. She tumbles over and out come nested cats of decreasing size, who join the friends on the windowsill to wait and watch. Quiet yet evocative, this is a lovely melding of artwork, design, and text. The pictures, executed in a soft palette of brown ink, watercolors, and colored pencils, get a suitable home on buff-colored pages. The thoughtful design begins on the jacket, where the window, its panes accentuated by a shiny gloss, allows the toys to view clouds reflecting altered views of their own images: Pig's umbrella floats through the sky, while the staid owl soars with wings spread. The short sentences of the text flow with the precision one would expect from a master picture-book creator like Henkes. Little ones, to whom each experience is new, will know what it's like to dream and wait. HIGH-DEMAND BACKSTORY: Caldecott medalist and Newbery Honor Book author Henkes is a favorite among librarians and booksellers (and, of course, children). Any new book will spark demand from his fans.--Cooper, Ilene Copyright 2010 Booklist
---
Publishers Weekly
(c) Copyright PWxyz, LLC. All rights reserved

Waiting can make anyone feel helpless and frustrated, so the five toylike knickknacks in Henkes's (Penny and Her Marble) story should be at their collective wits' end. Perched on a windowsill, this odd, diminutive crew-a pig with an umbrella, a bear with a kite, a puppy attached to a sled, a rabbit on an accordion spring, and an owl-have little volition of their own ("Sometimes one or the other of them went away, but he or she always came back"). But while their lives are spent waiting, their existence seems full and rich with meaning. Waiting reinforces their sense of identity: the pig waits for the rain and when it comes, "the pig was happy. The umbrella kept her dry." Waiting also connects them to each other: looking out the window together, "they saw many wonderful, interesting things," like frost on the windowpane or a sky lit up with fireworks. Henkes never tells readers explicitly what he's up to, and several incidents are wide open to interpretation-and that's what makes this enigmatic, lovely book intriguing and inimitable. Ages 4-8. (Sept.) © Copyright PWxyz, LLC. All rights reserved.
---
School Library Journal
(c) Copyright Library Journals LLC, a wholly owned subsidiary of Media Source, Inc. No redistribution permitted.

PreS-K-Five toys sit on a windowsill, each waiting for something. There's an owl with spots waiting for the moon, a pig with the umbrella waiting for the rain, a bear with a kite waiting for the wind, and a puppy on a sled waiting for the snow. And then there's a "rabbit with stars," content to simply look out the window. With an economy of words and gently repeating patterns, the text informs readers about the emotional ups and downs of this tiny band of friends: what makes them happy (getting what they've waited for), what makes them sad (when one of them goes away), and what surprises them (gifts, visitors, new friends.) Along with happiness and friendship, there are small moments of grief, anxiety, and existential wonder-all thoughtfully and authentically depicted with childlike honesty and optimism. On thick, creamy pages, Henkes uses brown ink with touches of watercolor and colored pencil in muted shades of pink, green, and blue to depict the softly rounded figures, shown small before the expanse of the four-paned window. Henkes varies the compositions with vignettes and a four-page wordless sequence showing the beautiful (a rainbow, fireworks) and sometimes scary (lightning) sights that the toys observe from the vantage point of their windowsill. The careful placement of the text and images establishes a leisurely pace, encouraging readers and listeners to slow down, examine the pictures, and discuss. Are these sentient little beings or are they moved and posed by an unseen child? Henkes leaves it up to readers to determine. VERDICT Waiting further cements Henkes's place alongside picture book legends like Margaret Wise Brown, Crockett Johnson, and Ruth Krauss, through his lyrical text, uncluttered yet wondrously expressive illustrations, and utmost respect for the emotional life of young children.-Kiera Parrott, School Library Journal © Copyright 2015. Library Journals LLC, a wholly owned subsidiary of Media Source, Inc. No redistribution permitted.