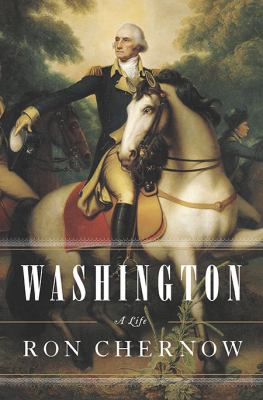 Washington: A Life
by Ron Chernow


Library Journal In this cradle-to-grave biography of the Founding Father, notable biographer Chernow (Titan: The Life of John D. Rockefeller) thoroughly recounts how Washington rose to prominence in the French and Indian War, parlayed that early heroism into international fame as general of the Continental army during the American Revolution, and, as America's first President, unified a young nation and shaped its government-and he offers deeper explorations of, for example, Washington's cold relationship with his mother, his heavy reliance on younger devotees such as Alexander Hamilton and the Marquis de Lafayette, and his contradictory actions regarding slavery. Chernow's Washington is a reluctant celebrity who perpetually tries to retire from national service but refuses to turn his back on an embryonic republican country struggling with its newfound freedom. The narrative relies heavily on Washington's papers, but Chernow also liberally cites other primary sources and previous biographies. While objective for the most part, he occasionally offers well-grounded opinions on Washington's character and political and military actions. VERDICT This broadly and deeply researched work is a major addition to Washington scholarship-every era should have its new study of him-and it should appeal to informed lay readers and undergraduates interested in stepping beyond the typical textbook treatment.-Douglas King, Univ. of South Carolina Lib., Columbia (c) Copyright 2010. Library Journals LLC, a wholly owned subsidiary of Media Source, Inc. No redistribution permitted.
(c) Copyright 2010. Library Journals LLC, a wholly owned subsidiary of Media Source, Inc. No redistribution permitted.
Book list *Starred Review* With so much that can be said and said positively about this magisterial biography, it is difficult not to write a review as long as the book itself. Given the distinction of the author, who wrote, among other single and collective biographies, the glowingly reviewed Alexander Hamilton (2004), readers can safely assume from the outset that what lies ahead of them is a vastly enlightening, overwhelmingly engaging treatment of a great man. The subject of the book needs only, by way of identification, the one word that Chernow uses as his title: Washington. Another book on Washington? is a question rendered pointless by this one, which happens to be the author's masterpiece. Definitive Washington is the point and effect of this biography. Our first president is thought of as more marble statue than living, hurting, loving human; however, Chernow's Washington stands not in the opposite corner as hot-blooded and animated. Washington spent a lifetime practicing control of his passions and emotions; his innate virtues, undenied and even celebrated here, were sharpened and focused by the man's suppression of a natural volatility. His gift of silence and of inspired simplicity, as the author so aptly terms Washington's strongest suits, supported his consequent leadership as general and as president.--Hooper, Brad Copyright 2010 Booklist
From Booklist, Copyright © American Library Association. Used with permission.
Choice This is the best of recent Washington biographies, but it still comes up short of exposing the whole man. Although judiciously weighing in on some foibles, the book continues the hagiographic tradition. Chernow clearly depicts family life, plantation management, and slaves. Less satisfying are Washington's relationships with men of his officer corps, which are very revealing to anyone who cares to investigate this area. There are significant gaps--for example, in analysis of the politics of command, Washington's role in the French and Indian War, and the war of attrition in New Jersey (winter and spring 1777). The author is too apologetic of the few not so brilliant military decisions, such as at the Battle of Monmouth. Chernow is given to rounding off and overgeneralizing his evaluations, of which in-depth research would have afforded more sharp edges. A fertile field pertaining to Washington's great disdain for the common soldier awaits researchers. The real Washington still demands a diligent and objective biographer. Meanwhile, this large volume has enlightening moments and is entertaining. Summing Up: Recommended. All levels, general and academic. H. M. Ward emeritus, University of Richmond
Copyright American Library Association, used with permission.