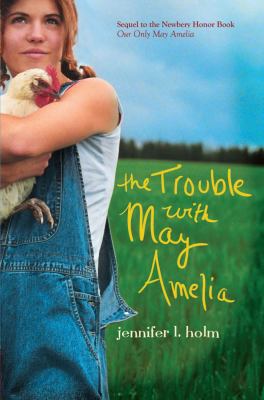 The Trouble with May Amelia
by Jennifer L. Holm


Publishers Weekly Anyone interested in learning to write crowd-pleasing historical fiction for elementary school readers would be wise to study Holm's work. Since Our Only May Amelia (HarperCollins, 1999), Holm has collected three Newbery Honors, and this sequel demonstrates her mastery of writing a complete, exciting story in a trim novel. Twelve-year-old May Amelia Jackson lives on a farm in Washington State in 1900 with her parents, Finnish immigrants, and a passel of brothers. Life is hard, but Holm works humor into even the grimmest situations, and Gustavson's chapter-opening spot art adds a cozy, atmospheric touch. A ransacking bull (named Friendly) knocks down the outhouse (with May Amelia inside); suitors romancing Miss McEwing are sent packing in various, inventive ways lest the school lose its beloved teacher. Judicious use of Finnish phrases adds flavor, and details ground the story in an era when boys were still routinely "shanghaied" (involuntarily pressed into service on ships bound for Asia). "Best Brother" Wilbert tells her she's as irritating as a grain of sand in an oyster, and it's mighty fun to watch May Amelia morph into a pearl. Ages 8-12. (Apr.) (c) Copyright PWxyz, LLC. All rights reserved.
(c) Copyright PWxyz, LLC. All rights reserved
Book list Decidedly shorter than Holm's Newbery Honor Book Our Only May Amelia (1999), this sequel is otherwise quite consistent in its folksy language, rural-Washington setting, and plucky protagonist. Living with boisterous brothers, a distracted mother, and a father who considers her Just Plain Stupid, May Amelia might be forgiven for thinking that It is my destiny to die in an outhouse. The 13-year-old proves resilient, though, both at school and at home on her family's farm. Helping her family through the rough year of 1900 are the dreams of coming riches, which blossom after they invest with a land speculator. When that deal sours and the whole community is affected, blame lands on May Amelia's shoulders, since she acted as a translator between the slick shyster and her Finnish-speaking father. With plot elements pulled from the author's own family history, the book draws to a close with an ending that, though ultimately hopeful, hints at more trouble to come. Line drawings at the start of each chapter add further appeal.--Medlar, Andrew Copyright 2010 Booklist
From Booklist, Copyright © American Library Association. Used with permission.
School Library Journal Gr 5-7-Holm reunites readers with the protagonist of Our Only May Amelia (HarperCollins, 1999). It is 1900 and the 13-year-old lives with seven brothers on the family farm along the Nasel River in Washington State. What is the "trouble" with May Amelia? Everything, according to her father, beginning and ending with her gender. Nevertheless, she possesses "sisu," Finnish for "guts and courage." It carries her through the continued sorrow over the death of her baby sister; the loss of the farm due to a phony land-development scheme; and the shame and blame her family receive as a result. At a time when life is harsh and prejudices are expressed through the use of words like "Chinamen," for Chinese townspeople, and "shanghaied," May Amelia, like Turtle in Holm's Turtle in Paradise (Random, 2010), is less an "irritating grain of sand" than she is a pearl. Both girls possess a talent for saucy quips and sensitive interiors where pain runs deep, but that never overtakes either heroine completely. These girls come from very different, extremely difficult periods in U.S. history, yet their stories read as extensions of one another. While some readers may find these three books too similar, others will find them satisfying.-Tracy Karbel, Chicago Public Library (c) Copyright 2011. Library Journals LLC, a wholly owned subsidiary of Media Source, Inc. No redistribution permitted.
(c) Copyright 2010. Library Journals LLC, a wholly owned subsidiary of Media Source, Inc. No redistribution permitted.