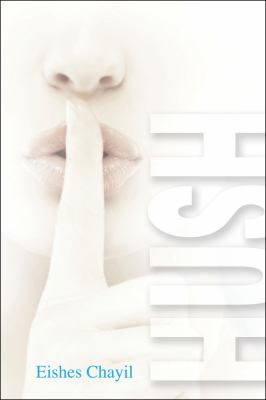 Hush
by Chayil, Eishes


School Library Journal Gr 8 Up-After six long years, Gittel is still haunted by her friend's suicide. Now 17, she knows what happened to Devory and why, but their ultra-Orthodox Jewish community has refused to accept the truth. The incest that led to Devory's death is not acknowledged, because "that doesn't happen in our community." This thoughtful, disturbing, and insightful novel provides an insider's view of an insular society that denies the reality of rape and oppression within its ranks. Gittel is poised to be married to a good man, the best fate she can obtain. The present action of the story is the unfolding of Gittel's arranged marriage, from negotiations between the families and her only meeting with her intended groom, to the wedding ceremony, young married life and the birth of her first child. But the plot revolves around her internal struggles to reconcile her faith and culture with the awful secrets that she knows and has witnessed. Her own purity-and therefore desirability-is linked to her silence. Speaking out carries too high a cost in a society in which the appearance of holiness and probity is everything. Family and social life within today's Chassidic community are portrayed with affection for the warmth and the enduring values but with a clear eye for the vulnerability of the young and the hurt. When Gittel finally does try to tell her friend's story, she comes up against the powerful men of the community. It is fitting that it is through the written word that both Gittel and the author are able to speak for the Devorys of the world.-Carolyn Lehman, Humboldt State University, Arcata, CA (c) Copyright 2010. Library Journals LLC, a wholly owned subsidiary of Media Source, Inc. No redistribution permitted.
(c) Copyright 2010. Library Journals LLC, a wholly owned subsidiary of Media Source, Inc. No redistribution permitted.
Book list In this stunning debut, Chayil (a pseudonym) takes readers into a cloistered society and exposes its secrets. Moving back and forth between 2003 and the present, Gittel, living in a Brooklyn Hasidic community, remembers her best friend, Devory. Her family seemed like any other, lots of children, ultrareligious, but one night when Gittel sleeps over, she watches as Devory's brother forces Devory to do something under the covers. Gittel doesn't understand. This is a community where teenagers in arranged marriages don't learn about sex until days before the wedding. But when Devory hangs herself and the community covers up the reasons, Gittel is haunted by the girl she couldn't help. Taken from an incident in her own life, Chayil's cri de coeur might as easily have been published as an adult book. She does, however, have a wonderful way of getting inside a child's head. Readers may have trouble with the story's frequent Yiddish phrases and be shocked by its casual fear and hatred of goyland. But this is powerful stuff and a glimpse into places not often seen.--Cooper, Ilene Copyright 2010 Booklist
From Booklist, Copyright © American Library Association. Used with permission.