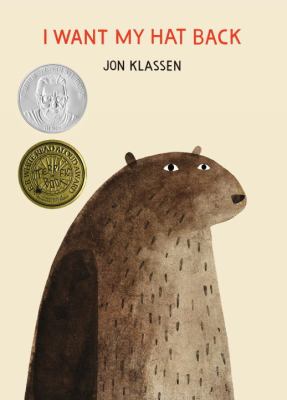 I Want My Hat Back
by Jon Klassen


Book list Klassen, who illustrated Caroline Stutson's Cats' Night Out (2010), pens his first story in this odd, and oddly charming, picture book. A bummed-out bear asks if other animals have seen his lost hat. The fox knows nothing. Neither does the frog. Or the rabbit who is wearing a pointy red hat. No luck with the turtle, snake, or armadillo either. Kids will probably be squirming in their seats at this point, just dying to tell the bear what he missed three page turns ago, but then a reindeer jogs Bear's memory by asking what the hat looks like (red, pointy). He runs back to confront the rabbit, and when a squirrel asks him later if he has seen a hat-wearing rabbit, Bear is all innocence: I haven't seen any rabbits anywhere. I would not eat a rabbit. Don't ask me any more questions. This is, obviously, a dark turn, but there is no denying that the devious humor is right at a child's level. He is a bear, after all; we should be happy he didn't gobble up the rest of the cast.--Chipman, Ian Copyright 2010 Booklist
From Booklist, Copyright © American Library Association. Used with permission.
Publishers Weekly In his first outing as an author, Klassen's (Cats' Night Out) words and artwork are deliberately understated, with delectable results. Digitally manipulated ink paintings show a slow-witted bear asking half a dozen forest animals if they've seen his hat. Unadorned lines of type, printed without quotation marks or attributions, parallel the sparse lines Klassen uses for the forest's greenery. Most of the answers the bear gets are no help ("What's a hat?" one animal asks), but the rabbit's answer arouses suspicion: "I haven't seen any hats anywhere. I would not steal a hat. Don't ask me any more questions." In a classic double-take, the bear doesn't notice the hat on the rabbit's head until several pages on: "I have seen my hat," he realizes, wide-eyed. Readers with delicate sensibilities may object to the implied conclusion ("I would not eat a rabbit," the bear says stoutly, his hat back on his head, the forest floor showing signs of a scuffle), but there is no objecting to Klassen's skillful characterizations; though they're simply drawn and have little to say, each animal emerges fully realized. A noteworthy debut. Ages 4-8. (Sept.) (c) Copyright PWxyz, LLC. All rights reserved.
(c) Copyright PWxyz, LLC. All rights reserved
School Library Journal Gr 1-3-Readers may be too young to know Nixon's famous line, "I am not a crook," but they'll surely figure out that someone here is not telling the truth. Bear has lost his hat and asks various creatures if they have seen it, with pronounced civility. Snake goes offtrack (and will also throw inattentive listeners offtrack) by announcing he's seen a blue and round hat. Rabbit vigorously denies having seen anything like it, despite evidence to the contrary. Armadillo asks, "What is a hat?" Bear is flung into despair until a young deer asks, "What does your hat look like?" Bear starts to describe it and immediately realizes he has seen it. The following page is painted red with anger. Readers realize they have seen it, too! Bear confronts the culprit and what happens next is a matter of interpretation. Violence is implied, but only indirectly. The Chinese ink illustrations are understated and stylized, and the pages are a natural sandy hue throughout. The dialogue is not in quotations but in contrasting colors. Wisps of grass, rocks, small branches, and specks of dirt compose the setting. Read aloud, this story will offer many sublime insights into how young readers comprehend an illustrated text that leaves out vital information, and will leave young sleuths reeling with theories about what just happened.-Sara Lissa Paulson, American Sign Language and English Lower School PS 347, New York City (c) Copyright 2011. Library Journals LLC, a wholly owned subsidiary of Media Source, Inc. No redistribution permitted.
(c) Copyright 2010. Library Journals LLC, a wholly owned subsidiary of Media Source, Inc. No redistribution permitted.