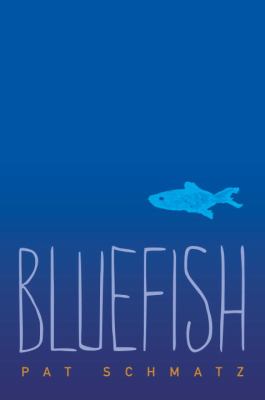 Bluefish
by Pat Schmatz


School Library Journal Gr 7-9-Eighth-grader Travis, tall and quiet, is beginning his first year in a new school. When he helps out a student being bullied, this rare act of middle-school kindness impresses an unusual, witty, and talkative girl named Vida-or Velveeta, as she prefers to be called. She befriends the strong-but-silent newcomer and tries to plumb his mysterious depths-and maybe grub a free dessert or two during lunch. Velveeta and Travis have the same reading class, where compassionate Mr. McQueen quickly recognizes that Travis has a serious reading deficit and suggests that he visit him for extra tutoring. Velveeta soon guesses what Travis is doing in these early-morning sessions and offers to help him. Eventually, he reluctantly agrees. But Travis's reading problem is only one of the deeper secrets that this unlikely pair will gradually begin to share. Despite the weighty problems the characters face-grief, alcoholism, and bullying among them-Bluefish is a lively, often-humorous, and ultimately hopeful page-turner. It has all the hallmarks of a classic contemporary young adult issues novel. It's packed with memorable and believable characters and powered by the prospect of redemption and just a hint of romance.-Jeffrey Hastings, Highlander Way Middle School, Howell, MI (c) Copyright 2011. Library Journals LLC, a wholly owned subsidiary of Media Source, Inc. No redistribution permitted.
(c) Copyright 2010. Library Journals LLC, a wholly owned subsidiary of Media Source, Inc. No redistribution permitted.
Book list His parents dead, 14-year-old Travis lives with his alcoholic grandfather and his beloved dog, Rosco. When he and his grandfather move to a new town, the dog disappears, and Travis is devastated. Worse, he feels like a bluefish, his word for stupid. And, indeed, school is a struggle for him because, as the the reader soon discovers, he has a closely guarded secret. Things begin to change when he meets an eccentric, extroverted girl who calls herself Velveeta. Though she has secrets of her own, she and Travis become friends and cautiously, with the help of an understanding teacher, begin to find ways to deal with their troubles and losses. Travis and Velveeta (her real name is Vida) are sympathetic characters with believable problems. Though this novel offers few surprises and an oddly inconclusive ending, the story is well written and deals realistically with issues that plague many teens.--Cart, Michael Copyright 2010 Booklist
From Booklist, Copyright © American Library Association. Used with permission.