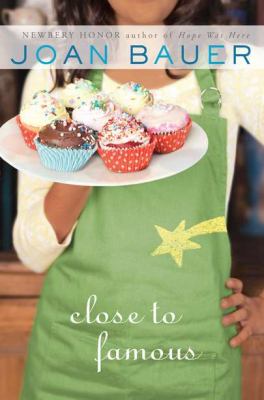 Close to Famous
by Bauer, Joan


Publishers Weekly Bauer (Peeled) tweaks a familiar recipe in this heartwarming novel about a determined girl who faces adversity with humor, heart-and cupcakes. A recent sixth-grade graduate (by the skin of her teeth), Foster McFee lands in tiny Culpepper, W.Va., with her mother after the two of them hightail it away from Mom's abusive, Elvis-impersonator boyfriend in Memphis. Foster has already known her share of tough times: her soldier father was killed in Iraq, and she's been struggling through school, unable to read. But Foster's dream of having her own show on the Food Network is a powerful force, and she takes comfort in baking and in emulating her favorite TV chef. With the help of kind and quirky locals, including a former movie star, Foster makes friends, earns fans for her cupcakes, and even begins to conquer her reading difficulties. Bauer skillfully brings readers to the heart of Culpepper with rich depictions of a contemporary small town and its residents and rhythms. The characters' eventual triumphs are the type that this author's fans eat up. Ages 10-up. (Feb.) (c) Copyright PWxyz, LLC. All rights reserved.
(c) Copyright PWxyz, LLC. All rights reserved
School Library Journal Gr 5-8-Sixth-grader Foster McFee is a supremely talented baker and dreams of being a famous television chef like Sonny Kroll, star of her favorite show on the Food Network, but she has already had to face some major challenges in her life. After her father's death in combat in Iraq, she and her mother, a talented singer, have had a hard time financially, and ultimately they are forced to leave Memphis in order to escape her mother's abusive Elvis-impersonator boyfriend. Worst of all, Foster is unable to read because of a learning disability. When she and her mother accidentally end up in Culpepper, WV, Foster finds some unlikely supporters among the tiny town's eccentric residents, including a boy with no camera who dreams of being a documentary filmmaker and a famous retired actress who lives in seclusion on the outskirts of the community. Thanks to them and to her own perseverance, Foster is able to work toward her dream of making the world a better place, one cupcake at a time. The story is fast paced, and readers will be rooting for likable and gutsy Foster, who expresses her views on life in baking metaphors. The quirky residents of Culpepper are equally believable and appealing. Youngsters will find this story tastier than a batch of Foster's triple chocolate cupcakes.-Kathleen E. Gruver, Burlington County Library, Westampton, NJ (c) Copyright 2011. Library Journals LLC, a wholly owned subsidiary of Media Source, Inc. No redistribution permitted.
(c) Copyright 2010. Library Journals LLC, a wholly owned subsidiary of Media Source, Inc. No redistribution permitted.
Book list Twelve-year-old Foster McFee and her mother leave Memphis in the middle of the night, fleeing the mother's abusive boyfriend. Foster has a severe learning disability, a pillowcase full of mementos of her dead father, and a real gift for baking. When she and her singer mother relocate to a tiny, rural West Virginia town, they discover a friendly and welcoming population of delightfully quirky characters. Foster finally learns to read from a reclusive, retired movie star; markets her baked goods at Angry Wayne's Bar and Grill; helps tiny but determined Macon with his documentary; and encourages her mother to become a headliner rather than a backup singer, all the while perfecting her baking technique for the time when she gets her own cooking show like her TV idol, Sonny Kroll. Bauer gently and effortlessly incorporates race (Foster's mother is black; her father was white), religion, social justice, and class issues into a guaranteed feel-good story that dodges sentimentality with humor. Readers who want contemporary fiction with a happy ending will find it here.--Carton, Debbie Copyright 2010 Booklist
From Booklist, Copyright © American Library Association. Used with permission.