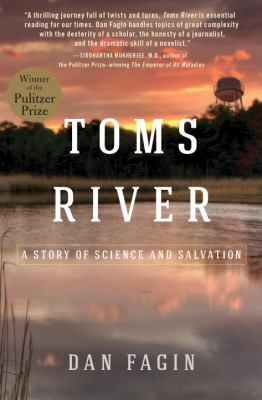 Toms River: A Story of Science and Salvation
by Dan Fagin


Book list What was in the water in Toms River? A seemingly high number of childhood cancer cases in the New Jersey town prompted the question, but there turned out to be no easy answer. As Rebecca Skloot's The Immortal Life of Henrietta Lacks (2010) investigated the tragic impact that unethical scientific pursuits had on a family, Toms River unravels the careless environmental practices that damaged a community. The book goes beyond the Toms River phenomenon itself to examine the many factors that came together in that one spot, from the birth of the synthetic chemical industry to the evolution of epidemiology to the physicians who invented occupational medicine. Former Newsday environmental journalist Fagin's work may not be quite as riveting in its particulars as Skloot's book, but it features jaw-dropping accounts of senseless waste-disposal practices set against the inspiring saga of the families who stood up to the enormous Toms River chemical plant. The fate of the town, we learn, revolves around the science that cost its residents so much.--Thoreson, Bridget Copyright 2010 Booklist
From Booklist, Copyright © American Library Association. Used with permission.
Library Journal Toms River, NJ, is a small town near the Jersey shore that grew up around chemical industries and the wartime technology boom of World War II. Fagan (journalism, New York Univ.) explores the history of Toms River, and the effects on the town of its proximity to the local chemical plant. While he details the history of the town from its founding in the 1800s to now, his account is often muddled by tangential histories, such as a detailed description of the discovery of the vat dyeing process. In particular, Fagin focuses on the extremely high occurrence of childhood cancer in Toms River, which has been linked to the area's air and water pollution. While each piece of the history may be interesting and informative, as a whole, the book does not flow. VERDICT Readers may be bogged down by the minutia of this book, but its detailed text will appeal to in-depth researchers, especially those with a personal connection to the region or familiar with the chemistry detailed herein.-Dawn Lowe-Wincentsen, Oregon Inst. of Technology, Portland (c) Copyright 2013. Library Journals LLC, a wholly owned subsidiary of Media Source, Inc. No redistribution permitted.
(c) Copyright 2010. Library Journals LLC, a wholly owned subsidiary of Media Source, Inc. No redistribution permitted.
Publishers Weekly Most people know Toms River, N.J., as one of the areas devastated by Superstorm Sandy. But Fagin, an associate professor of journalism and the director of the Science, Health and Environmental Reporting Program at New York University, reveals an earlier, less conspicuous disaster in the region. In a well-documented expose of toxic industrial plants, corporate greed, and government neglect, Fagin (Toxic Deception, coauthor) plays detective to reveal the excessive human cost of chemical manufacturing hubs in the Jersey pinelands. Fagin focuses his research on cancer hot spots and how they affect the development of local children, but he also delves deeper into the region's tragic history by tracing the arrival of chemical plants in the early 1950s and chronicling the massive contamination of waterways, soil, and air that followed shortly thereafter. Determined to reclaim their health and lives, the residents waged a long legal campaign, which resulted in a pioneering government study, the revelation of an extensive cancer zone, and a settlement of over $35 million. A crisp, hard-nosed probe into corporate arrogance and the power of public resistance makes this environmental caper essential reading. Map. Agent: Jane Dystel, Dystel & Goderich Literary Management. (Mar.) (c) Copyright PWxyz, LLC. All rights reserved.
(c) Copyright PWxyz, LLC. All rights reserved