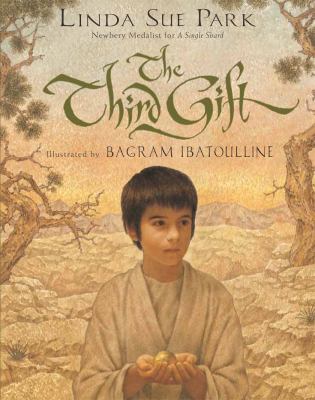 The Third Gift
by Linda Sue Park


School Library Journal K-Gr 2-A boy tells of the long walks he takes with his father, who collects pearls of sap from certain trees, a skill he has honed over years. These expensive "tears" are used as medicine and spice, and as incense at funerals-and when three strangers arrive at the marketplace to buy the finest tears "for a baby," readers discover that it is myrrh, one of the gifts to baby Jesus mentioned in Matthew 2:11. The hyperrealistic acryl-gouache illustrations depict the sandy beige hues and nuanced textures of a dry and inhospitable land, contrasting with the smooth skin and rounded cheeks of the young boy and his loving relationship with his father. This gorgeous picture book sheds thoughtful light on a fascinating facet of the Christmas story.-Eva Mitnick, Los Angeles Public Library (c) Copyright 2011. Library Journals LLC, a wholly owned subsidiary of Media Source, Inc. No redistribution permitted.
(c) Copyright 2010. Library Journals LLC, a wholly owned subsidiary of Media Source, Inc. No redistribution permitted.
Book list It's hard to tell at first where this book is going. My father collects tears, it begins. The tears are balls of sap that seep from the trees. Together, father and son walk over desolate terrain, looking for trees that will deliver the tears used for medicine and embalming. Father is especially good at finding them. But it is left to the boy to carve out the biggest tear of all to sell to the Wise Men, who are bringing it as part of a gift to a special babe. This quiet story may not grab readers at first, with little action beyond simply the clipped wanderings and working of a man and his son. The desert-sand color that saturates the pages also gives a stillness to the art, though the nearly photorealistic faces of the duo are arresting. Yet at the conclusion, when the boy wonders about the gift's recipient, children may be set wondering as well. The extensive author's note explains Park's reasons for writing this picture book and adds welcome detail.--Cooper, Ilene Copyright 2010 Booklist
From Booklist, Copyright © American Library Association. Used with permission.
Publishers Weekly Somewhere in Ibatoulline's ancient, almost-shimmering Arab desert landscape, a boy at his father's side learns the family business of gathering valuable sap, which seeps like tears from certain trees. Neither father nor son realize the greatness of their wares as it is sold to three finely dressed men who add it to gifts of gold and frankincense that they are taking to "a baby." Newbery Medalist Park's lean, well-paced story bridges the ordinary and the sacred to powerful effect. Park's author's note describes her inspiration and includes some background on myrrh. Ages 6-9. (Nov.) (c) Copyright PWxyz, LLC. All rights reserved.
(c) Copyright PWxyz, LLC. All rights reserved