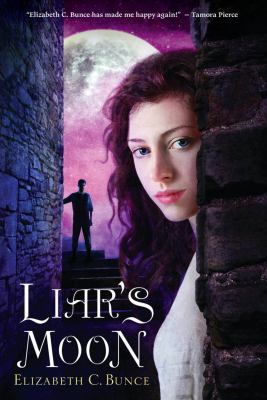 Liar's Moon
by Bunce, Elizabeth C


School Library Journal Gr 9 Up-Durrel and Raffin from Starcrossed (Scholastic, 2010) are back. Pickpocket Digger is now in her home city of Gerse, but life has not returned to normal. Civil war is dividing the country and the peoples' loyalties. Those with magical gifts are being imprisoned and tortured; and Digger's brother, Werne the Inquisitor, is trying to compel her to assist him in rounding them up. In the midst of this, the young lord Durrel has been arrested for the murder of his wife. As he once saved Digger's life, she vows to help him. What she discovers is a muddle of politics, intrigue, and poison that even the most accomplished sleuth would be hard pressed to sort out. This mystery/fantasy hybrid is intriguing and complex, and the setting is well-imagined. Digger is a scrappy, cynical, morally deficient, yet honorable, thief. Readers who like independent heroines and/or Philip Pullman's "Sally Lockhart Mystery" series (Knopf) will enjoy this novel. Although confident readers can follow the twisting plot, the complicated situations may cause confusion for some teens not familiar with the first book.-Heather M. Campbell, formerly at Philip S. Miller Library, Castle Rock, CO (c) Copyright 2012. Library Journals LLC, a wholly owned subsidiary of Media Source, Inc. No redistribution permitted.
(c) Copyright 2010. Library Journals LLC, a wholly owned subsidiary of Media Source, Inc. No redistribution permitted.
Book list In this sequel to Star Crossed (2010), gifted thief Digger has returned to Gerse to discover that nobleman and friend Durrel Decath has been imprisoned after being accused of murdering his wife. After determining to prove Durrel's innocence, Digger becomes entangled in a web of deceit and intrigue. Bunce incorporates mystery, suspense, romance, and social issues into an absorbing fantasy-adventure that is likely to resonate most with returning readers, although the appended lexicon will help orient newcomers. Digger's highly descriptive first-person narrative brings the settings and diverse characters to life, and the cliff-hanger ending is sure to leave readers anticipating the follow-up.--Rosenfeld, Shelle Copyright 2010 Booklist
From Booklist, Copyright © American Library Association. Used with permission.