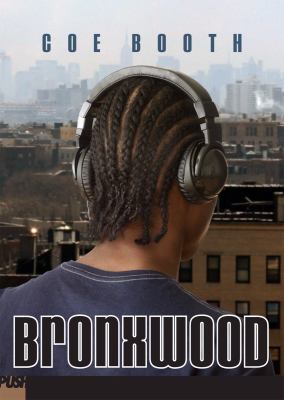 Bronxwood
by Booth, Coe


School Library Journal Gr 9 Up-In Tyrell (Scholastic, 2006), the teen dumped the girl who lied to him and left his mother to her own devices. He set up a new life in Bronxwood, crashing with two friends who are heavily involved in drug dealing. Now his father's out of prison and wants to reunite the family, but Tyrell finds the rules and posturing too much to handle and stays out on his own. He quickly realizes that without his own DJ equipment, he can't make the money he needs to support himself and take care of his girlfriend, Jasmine. When the decision comes down to what's best for his little brother, Troy, and what's best for Tyrell, the tough choice will change his life. Returning to the inner-city setting that is as much a character as any of the individuals, Booth builds up the conflict brought on by Tyrell's temptations-the drug dealers are more violent and persuasive, the girls are more enticing, and the family dynamics are more charged. Action scenes combine with interpersonal exchanges to keep the pace moving forward at a lightning speed, but Booth never sacrifices the street-infused dialogue and emotional authenticity that characterize her works. She has created a compelling tale of a teen still trying to make the right choices despite the painful consequences.-Chris Shoemaker, New York Public Library (c) Copyright 2011. Library Journals LLC, a wholly owned subsidiary of Media Source, Inc. No redistribution permitted.
(c) Copyright 2010. Library Journals LLC, a wholly owned subsidiary of Media Source, Inc. No redistribution permitted.
Book list With the same heartbreak and honesty as the widely acclaimed Tyrell (2006), this fast-paced sequel continues the title teen's immediate first-person narrative of his struggle in the hood. Tyrell's dad has been released from prison, but having him at home does not make life easier; in fact, the two face off verbally and then in a brutal physical fight. It is hard to make enough money working as a DJ at parties, and Tyrell gets drawn into drug dealing on the violent streets. He finds escape with girls, and he has sex with more than one, although he loves gorgeous Latina Jasmine, whom he met in a motel for the homeless. Born in the Bronx, Booth has worked as a social worker there, and she is not easy on the system, offering no sweet resolution; in fact, things only get worse, and the realism continues in the characters' raw language (including the n- and f-words). Still, the hope rings true through Tyrell's sense of survival and responsibility ( I hafta ) as he cares for his brother, his friends, and his girl.--Rochman, Haze. Copyright 2010 Booklist
From Booklist, Copyright © American Library Association. Used with permission.